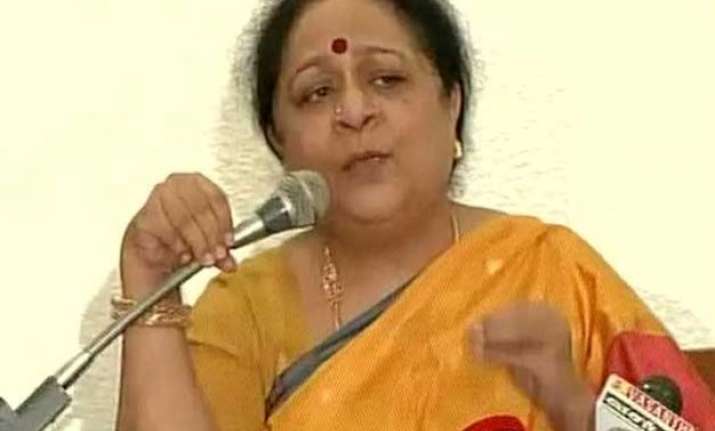 New Delhi: Taking Rahul Gandhi head on, senior Congress leader and former union minister Jayanthi Natarajan has once again accused Congress vice-president of forcing her to stall projects like Vedanta and Niyamgir.
Addressing a press conference in New Delhi, Jayanthi Natarajan announced her decision to resign from the primary membership of the Congress party.

READ ALSO: Despite my reluctance, I was forced to attack PM Modi on snoop-gate
Here are the major highlights of her press conference:
1. It is an extremely painful moment for me, as my family has been involved with Congress since its inception. The time has come to rethink my association with the Congress party,it is not the Congress anymore which I had joined
2. Without a single blemish I have served the party, I served country and the party to the best of my capabilities.It was my duty to make sure that every single step I took, no matter how popular/unpopular was to preserve environment.
3. I received several requests,memorandums from Cong VP, I was asked by his office to protect, preserve environment.Was asked by Cong VP office to ensure that the envmnt was protected and these large projects don't cause havoc to environment.It was party line,I also believed in it.I did due diligence,did it.Despite objections from party colleagues,I followed party line.
4. All this made me stall projects-Vedanta,Niyamgiri;in which Rahul Gandhi told tribals he will be their sipahi including Nirma project.
READ ALSO: Read full text of Jayanthi Natarajan's letter to Sonia Gandhi
5. Around 17th November when I was on a tour, received a call from Ajay Maken asking me to come back to Delhi. I was asked to attack on snoop-gate. I said I wasnt happy coz Modi should be attacked on policy not on this (snoopgate)but I was deputed to attack him.
6. When I resigned, PM praised my work, no wrongdoing was pointed out.  I have no idea why I was removed as Congress spokesperson.
7. I have no issues with Tamil Nadu State party at all, I was sidelined by the National High Command. My issue is with national High Command, no issues with the state unit, I was never given an appointment with the Madam Gandhi
8. I wrote a passionate email to Rahul Gandhi ji saying I saw your speech in FICCI, I want to know why you did this.To which he replied, I'm a little busy right now, will call you, but he never did.
READ ALSO: Senior Congress leader Jayanti Natarajan revolts, accuses Rahul Gandhi of humiliating her
9. I have been faithful, loyal servant of the party, utter loyalist of Gandhi family, have no shame in saying this.
10. Have done no wrongdong, if anyone can prove this I am willing to be hanged, willing to go to jail
11. Today I announce my resignation from primary membership of Congress. Want to uphold the legacy of my family, my integrity, I only did the right thing for my country,committed no wrongdoing.
12. Don't know how many times I asked for an appointment with High Command/Rahulji,didn't get one.When I was miserable,what do I do?:
13. Why should I blame PM Narendra Modi when my own party has treated me like this.I had attacked him strongly
14. I have no plans of joining any party.