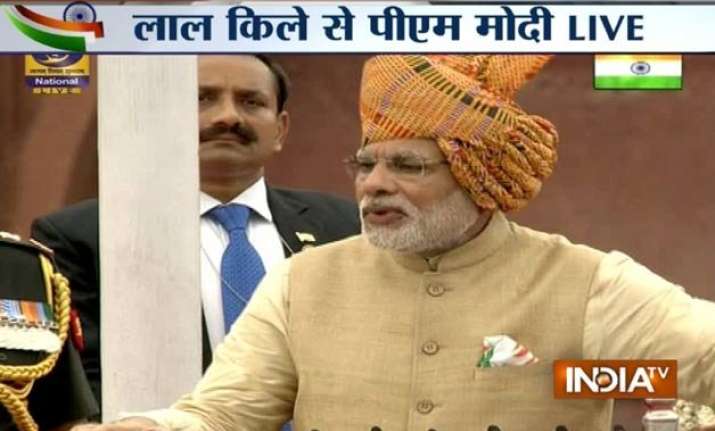 New Delhi: India, the nation of more than 1.25 billion, is today celebrating its 69th Independence Day. It is the day when India became free from the British Rule after 200 years of slavery.
The day has great significance because it reminds the people of the unity and diversity of India. India is also a land of different religions which are characterised by various religious practices and beliefs.
As a tradition the Prime Minster addressed the nation from the iconic Red Fort after unfurling the national flag in the morning.
In a one and half hour long speech the PM addressed several burning issues.
We bring you all the 8 issues he addressed during the speech and what he said on the it:
1) One Rank One Pension
"The issue of 'One Rank One Pension' came up in front on every government. Some even made small promises. Issue could not be solved. This government agrees in principle with OROP, we are moving forward with negotiations. The way the talks are going on I am expecting something positive."
2) Start-ups and job creation
"We are looking at systems for enabling start-ups. We must be Number one in start-ups. 'Start-up India' & 'Stand up India'". Every bank should ensure that its every branch must give loan for start ups to at least one Dalit or tribal."
"Why does somebody have to seek 'Seefarish' when a job is sought? It is not proper. We are thinking of completely doing away interviews at lower level recruitment."
3) Electricity for every village
"Even after so many decades of Independence there are 18,500 villages in India which do not have electricity. We affirm our commitment to provide electricity to all those villages that do not have electricity. We will connect these villages with electricity in the next 1000 days."
4) North East development
"India cannot develop till the eastern part of India develops. We will be a strong nation only when our eastern region is also strong. We are installing gas pipelines and improving rail networks."
5) Agricultural Productivity
"Government is committed to provide urea to famrers. We need to increase agricultural productivity. Save water, save energy, save fertilizers should be our motto."
6) Black Money
"On the issue of black money we took a lot of steps within such a short time, we formed a SIT under SC's guidance the day we took over. Black money law stringent provisions will not be diluted despite pressures. Rs 6500 crores disclosed under compliance window of black money and foreign assets law. This 125 crore team India wants transparency."
7) On corruption
"It has been 15 months now since we formed government, no accusation of corruption of even Re 1 on my government. Corruption has to be removed fully from the system."
8) Social Security and issues
"Today I proudly say that the 'give it up' campaign for gas subsidy has been successful, 20 lakh people have given subsidy up."  
"Dignity of labour has to be our national duty, it has to be a part of our nature."
"We have introduced Shrameva Jayate Yojana. It is an effort to change the way we look at the workers of India. Who has given maximum strength to Swachh Bharat Abhiyaan? It is the children of India."
"If there is something that has touched every person, it is the movement towards cleanliness."
"The doors of the banks were not open for the poor. We decided this must end. We wanted to strengthen financial inclusion. Bank accounts are essential for integrating the poor into the financial system. When the branch of a bank is built somewhere, people rejoice. But this is still easy. Getting people to those banks takes effort. After all who are the banks for, they are for the poor."
"We have to end the curse of casteism, communalism with the sweetness of development".