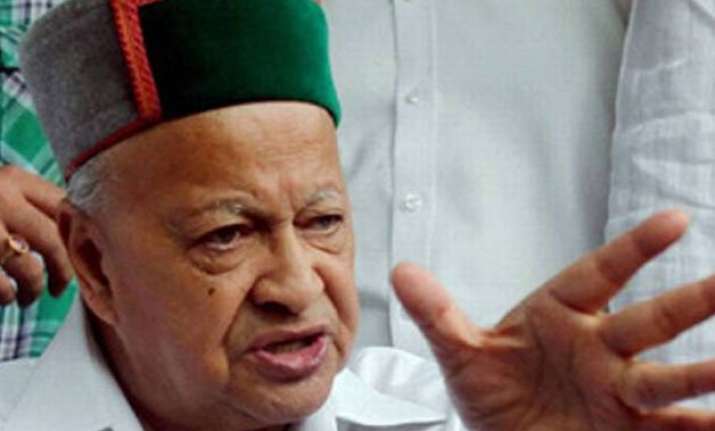 Shimla: The Himachal Pradesh High Court today restrained CBI from arresting Chief Minister Virbhadra Singh and his wife Pratibha Singh in connection with the disproportionate assets case but allowed the enquiry in the matter to proceed.
Admitting the petition of Virbhadra Singh against whom an FIR was registered by CBI last week, a division bench of High Court comprising justices Rajiv Sharma and Sureshwar Thakur, also directed CBI to keep the court informed before interrogating the couple and fixed the next hearing on November 18. The court said the inquiry in the case will continue.
The chief minister had filed a petition in the court yesterday pleading that the raids on his private residence Holley Lodge and other premises were conducted with "malafide intentions and political vendetta" by the central investigating agency.
Senior Supreme Court lawyer and former Union Minister Kapil Sibal appeared for the chief minister.
Singh in his petition alleged that the CBI had overstepped its jurisdiction in filing the case and questioned how the CBI could raid his premises when the case was already pending in the Delhi HC and also before the Income Tax tribunal and other Income tax authorities, where all documents relating to his returns have been submitted.
Seeking setting aside of entire CBI process of investigations and case filed against him and wife Pratibha Singh, a former MP, Singh argued that the permission of the state government and home department was not sought before raiding the residence of a sitting chief minister.
Virbhadra sought directions from the court to quash the FIR registered against him and his wife under Sections 13(2) and 13(1) (e) of the Prevention of Corruption Act and Section 109 of IPC by CBI on September 23 in New Delhi and urged the court to summon record of the preliminary inquiry and the FIR.
The CBI had acted without jurisdiction by conducting probe into alleged offences under the Prevention of Corruption Act against the highest democratically elected constitutional functionary in the state without any consent from the state government, a pre-requisite under Section 6 of the Delhi Special Establishment Act, the petition said.
There was no order, direction or judgment by any court that authorised the CBI to inquire, investigate or register regular cases and exercise jurisdiction in the territory of Himachal Pradesh, he said.
Even the cause of action did not arise in the territory of Delhi, he claimed.
After the hearing was concluded, the chief minister, who was not present in the court, told reporters outside that the case was "politically motivated".