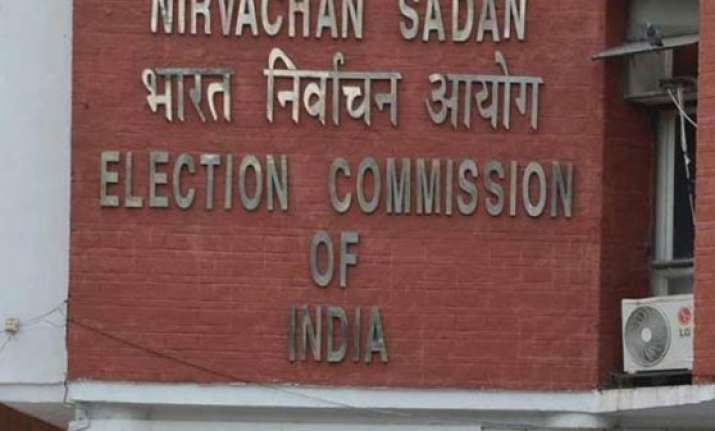 Chandigarh: Chief Election Commissioner (CEC) VS Sampath on Saturday said that for the first time, five police observers will be deployed in Haryana to ensure free, fair and clean polling in the state where election is due on October 15.
"Five police observers will be deployed in sensitive districts," he said here after reviewing poll arrangements.
He, however, did not mention the name of the districts.
The Commission would try to get maximum possible force from the Centre for the the polls.
"But how the available force is used is more important," he said.
Sampath was addressing a press conference shortly after holding meetings with political parties, chief secretary, home secretary, director general of police, deputy commissioners, superintendents of police, and other senior officers of the state government, here.
He expressed satisfaction with the preparedness made by the election machinery and said that the Commission was expecting more participation of electors in the polls.
The Commission has taken a major voter facilitation initiative according to which polling would start at 7 am and continue till 6 pm on the day of the poll, he said.
The Commission has issued directions that single-window system should be made functional to issue permission for holding rallies by parties and others. Vulnerability mapping will be done and sensitive and hyper-sensitive polling booths are being identified after taking inputs from candidates, he said.
Also, voter slips would be distributed ahead of the poll day, he said.
Sampath said it had also been decided to promote and monitor turnout of postal ballots among the staff and security personnel.
Directions have been issued for a vigorous campaign to ensure higher voter turn-out which may be more than 80 per cent.
Systematic Voters' Education And Electoral Participation (SVEEP) programme would be strengthened and basic minimum facilities improved at polling stations to facilitate the voters, he said.
Sampat said the Commission had got useful inputs at the meeting with representatives of political parties.
Problems related to campaign facility, voter slip distribution, misuse of liquor and money power were also discussed.
"Absolute neutrality is essential by officers for ensuring free and fair polling," he added.
Sampat said that concerned officers have been directed to ensure enforcement of the Model Code of Conduct.
He said that cash amounting to Rs 1.67 crore has been seized in the state.
Similarly, massive quantity of 26,723.04 litres of liquor worth Rs 6 crore and 4,897 kg of drugs like poppy husk have also been seized, he said.
As many as 32 notices have been issued concerning paid news out of which 26 have been confirmed, he said.
Distribution of food and liquor would not be allowed, he added.
He said that the Commission has also streamlined the procedure of postal ballots.
As many as 270 flying squads had been deployed to check the flow of money and liquor, he said.
Apart from 46 general observers, 21 expenditure observers have also been deployed in the state, he added.
More than 1.62 crore people, including 88.06 lakh men and 75.12 lakh women, would exercise their right to franchise in the Assembly elections in the state.
There are 16,357 polling stations in the state and the number of contesting candidates is 1,351, Sampat added.
He said that 500 model polling station with extra facilities to make voting a 'pleasurable experience' will be set up in different assembly segments.