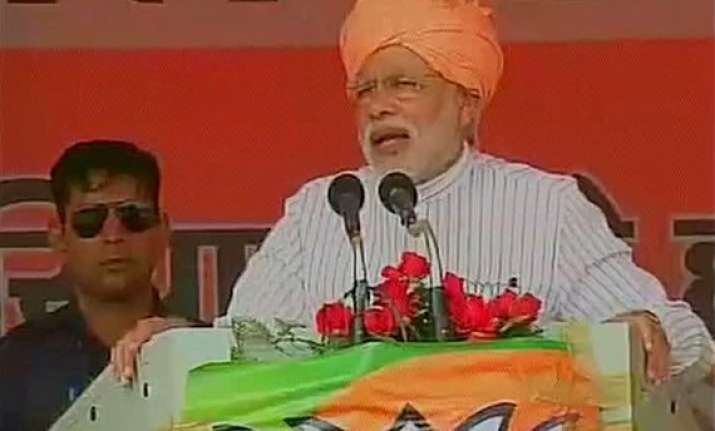 Mahendergarh/Rohtak/Sonepat: Seeking a clear majority for BJP in Haryana on the pattern of Lok Sabha polls, Prime Minister Narendra Modi today told the electorate that the upcoming Assembly elections were about deciding the fate of the state and they should rise above caste, religion, creed and sect.
Continuing with his series of rallies in this state which goes to polls on October 15, Modi said he wants to see the transformation from "Scam Haryana to Skill Haryana" as he targeted the ruling Congress and INLD.
Read Also: Haryana polls: Modi is working for big industrialists, alleges Rahul Gandhi
Referring to three colors in the national flag and blue one in the 'chakra' in it, he underlined the need for "four-colour" revolution involving energy (saffron), crops (green), milk (white) and fishing sector (blue) to help India move ahead.
He said he favours good ties between the Centre and the states which, according to him, was not happening so far.
Focussing on Haryana which has 90 Assembly seats, he said "this election is not about who will win or which party will form the government. This election is for taking the decision of Haryana's fate.
"I urge the voters that while voting, you should come above caste, religion, creed and sect to elect a BJP government with full majority in the state."
While seeking full majority for BJP in the state, he promised to transform "Scam Haryana to Skill Haryana" amid his emphasis that he wants to strengthen the state's ties with Delhi to improve its fortunes.
"I know that you are sad that Haryana is know as a state of scams. There are scams and then scams within scams. Our opponents are all involved in scams. Do you want a Scam Haryana? I want to create a Skill Haryana.
You have to decided if you want a Scam Haryana or a Skill Haryana," he said addressing a rally in Mahendragarh.