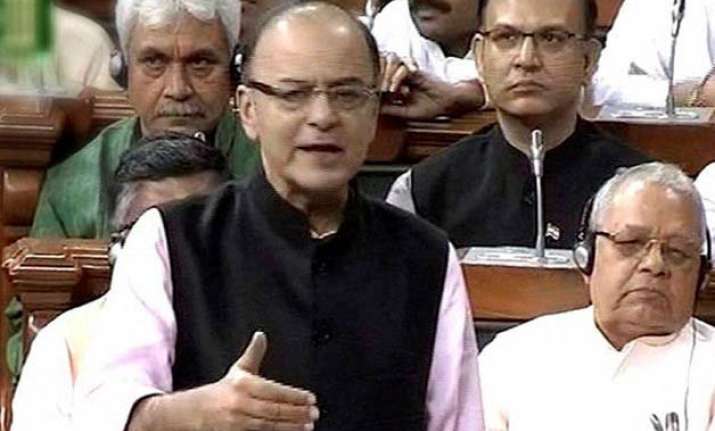 New Delhi: Government today tore into Congress for its allegations against External Affairs Minister Sushma Swaraj in the Lalit Modi issue and ruled out her resignation, saying she had been made a "scapegoat of a pretext" to stall reform legislations.
Finance Minister Arun Jaitley said in Lok Sabha that the previous UPA government had not taken any concrete steps to bring back Lalit Modi, who is facing money laundering charges, as the Congress-led dispensation was on the "wrong route".
He said Lalit Modi was not a "fugitive" in law when Swaraj had spoken to British authorities with regard to his travel documents and had become so only on August 5 when the present government obtained a warrant from a Mumbai court.
"The allegations are baseless...the government rejects each of theses charges (leveled by Congress) and the question of Sushmaji resigning does not arise," asserted Jaitley while replying to the charged debate on Adjournment Motion brought by Congress. The Motion was later defeated by voice vote after Congress staged a walkout.
Jaitley said Congress had made "mountain of what was not even a mole hill" by raising only "hollow slogans" and ensuring a washout of Parliament session.
Taking at dig at Congress Vice President who had raised various issues during his brief speech, Jaitley said, "the difficulty with Rahul Gandhi is that he is an expert without knowledge."
On the allegations that daughter of Swaraj had represented Lalit Modi in a court, he said, she was one in a "crowd" of lawyers representing Modi.
He used this as a handle apparently to hit out at Nehru-Gandhi dynasty as he said, "There are still many honest people whose children have to work for a living. For generations, generation of the family who have dominated this country's politics have not worked for a living. They have learnt the art of living comfortably without working. Some of us are not."
Referring to Rahul Gandhi's monkey jibe, Jaitley said "you are very fond of saying that there were three monkeys but don't make monkey out of this country.
"Without an issue you hold up parliament, you waste a whole session and the real reason is that you ran a failed government, you ran a corrupt government. When things are beginning to look up in India and there is new confidence you somehow want to sabotage the growth story."
He made this scathing attack while referring to the stalling of ambitious GST bill.Rahul Gandhi had earlier said the problem with the Modi government was that it does not want to see, hear or speak out truth, like Mahatma Gandhi's three monkeys.
Jaitley further said "there are still many honest people in this country whose children have to work for living. For generations, generation of the family who have dominated this country's politics, generation have not worked for living."
On the opposition to the passage of Goods and Services Tax (GST), he said Congress had announced it in 2006 and introduced in 2011 but now it was opposing the bill despite all its proposals being accepted.
"Once it is cleared by Lok Sabha, once in the other House the number are against you so we will not allow a vote because constitutional amendment requires a vote by just lung power and disturbing the house," he said.
"So my entire sympathies with Sushmaji because she is the only a scapegoat of pretext, the real reason was they wanted to prevent legislation particularly the constitutional amendment on the GST," he added.
The government proposes to roll out GST from April 1, 2016 but it look unlikely as the Bill is yet to be passed by the Rajya Sabha.
Replying on behalf of the government, Jaitley said a "mountain was made out of what was not even a mole hill".Hitting back at Congress for targeting Swaraj in a sustained manner, he said she had been made a "scapegoat of a pretext" as the main reason for disrupting Parliament was to "sabotage the Indian growth story" by stalling reform legislations like GST.
He ruled out Swaraj's resignation, saying she had done nothing wrong and the Congress had created a "cloud" of a "scandal" which did not exist.
Making a scathing attack on Rahul, Jaitley said the Congress Vice President is "an expert without knowledge".  Referring to his citing the story of Gandhiji and three monkeys and asked him not to "make a monkey out of the country" by holding up an entire session of Parliament.
"A mountain is being made out of what is not even a mole hill," he said, while insisting that the former UPA government had done nothing in concrete terms to bring back Lalit Modi.
He also hit out at Rahul for questioning the role of Swaraj's lawyer daughter."There are still some honest people whose children have to work for a living. There are other people who, for generations in politics, have not worked for a living. They have learnt the art of living comfortably without working, which we have not," he said in a veiled reference to the Gandhi-Nehru family.
Earlier, Swaraj, while intervening in the debate, tore into Congress, saying it had helped Bofors accused Ottavio Quattrocchi and Bhopal gas leak accused Warren Anderson in fleeing India and roped in Rajiv Gandhi in this regard.
She specifically responded to Rahul's charge that she had got money to help Lalit Modi, telling him to ask his "mamma" as to "how much money had been taken from Quattrocchi" and "why did 'daddy' (Rajiv Gandhi) get released the killer of 15,000 people (in Bhopal gas leak)," an apparent reference to Anderson.
Responding to the allegations of Rahul's charge that nothing is being done to bring back black money stashed abroad, Jaitley said "we have taken some hard steps. Some people, who are critics of this government, are saying these are too harsh steps. You (Congress) did nothing. Every steps have been taken by us."
Recalling how the Congress-government messed up the case related to the former IPL commissioner, Jaitley said a notice was sent to him under FEMA for transfering money to South Africa for IPL tournament of 2009 without the permission of the Reserve Bank.
He said it was wrong as the matter related to money laundering and a case should have been registered under the Prevention of Money Laundering Act (PMLA).
"The correct steps that is legislation of the case under PMLA, activation of the case, summary hearing of the case for the first time, getting the non-bailable warrant against him, moving for the red-corner against him. These are all steps which will be taken now," he said.
Jaitley said Congress-led government took virtually no steps to nail down Lalit Modi."Every steps that you took including wanting him to brought back physically deportation, the British said this is not permissible in law.
So you were taking the wrong steps and creating a false cloud as though you are doing something and present government is favoring them. The truth is contrary that you took steps that you could never succeed," he said.
Jaitley said the UPA government had issued only 'light blue corner' lookout notice for Lalit Modi which is valid for domestic airports while he had already reached UK.
"You followed wrong route so that you can never get the man...so they were make-believe actions," he said.Referring to the loan extended by Lalit Modi to Dushyant Singh, son of Rajasthan chief minister Vasundhara Raje, Jaitley said, it was a commercial transaction and the loan was returned through a cheque after a year.
"It was unlike the other land deal in which son-in-lawhad benefitted," the Finance Minister said, in an apparent
reference to Robert Vadra, the son-in-law of Sonia Gandhi.
"It was described by the then Finance Minister P Chidambaram as the commercial transaction between private parties," he added.
Responding to an issue raised by RSP member N K Premachandran with regard to a person who is serving life sentence in Oman jail for murder, Jaitley said Swaraj had taken up even this issue on "humanitarian grounds" with the Oman government.
Earlier, while defending her "humanitarian" action with regard to ailing wife of Lalit Modi, Swaraj revealed that Premachandran had also written to her requesting for intervention in the case of a murder convict in Oman.