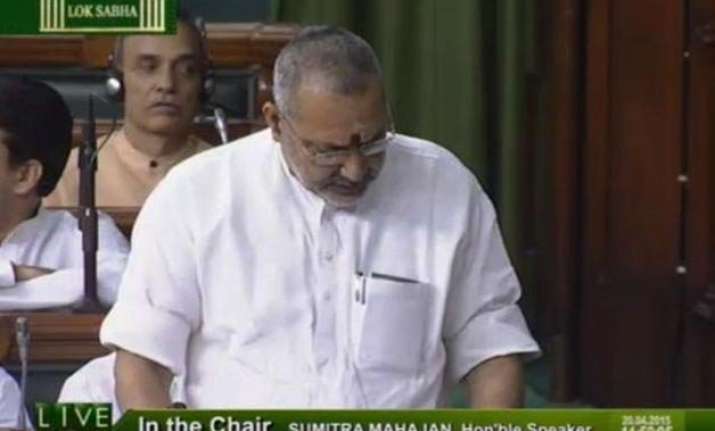 New Delhi: Union minister Giriraj Singh today apologized in Lok Sabha for his comments against Congress President Sonia Gandhi.
"I express regret if anyone has been hurt by my statement.I didn't mean to insult anyone," said Giriraj Singh
Earlier, the Lok Sabha was  briefly adjourned when the Congress created a ruckus over a comment made against Sonia Gandhi by central minister Giriraj Singh.
Giriraj Singh had kicked up a row with his remarks asking whether Congress would have accepted Sonia Gandhi's leadership had she not been white-skinned.
Read more: Congress accepted Sonia Gandhi as leader because of her 'white-skin', says Giriraj Singh
As soon as the house assembled for the second part of the budget session after a month-long break, Congress MP Jyotiraditya Scindia raised the matter.
"People are making statements against women. Central minister Giriraj Singh had made a derogatory comment about Sonia Gandhi. This kind of comments are not only against the women of the country, but the entire country should hang their heads in shame.
Read more: I won't reply to a person with 'narrow mindset': Sonia on Giriraj's racist remark
"We not only want an apology, but also resignation of the minister. The prime minister should also apologize," he said.
Parliamentary Affairs Minister M. Venkaiah Naidu said the issue should be discussed, but the prime minister should not be dragged into this.
Speaker Sumitra Mahajan condemned the comments, but said the issue can be discussed later.
The Congress members, however, started shouting slogans which disrupted the question hour following which the speaker adjourned the house for 20 minutes.