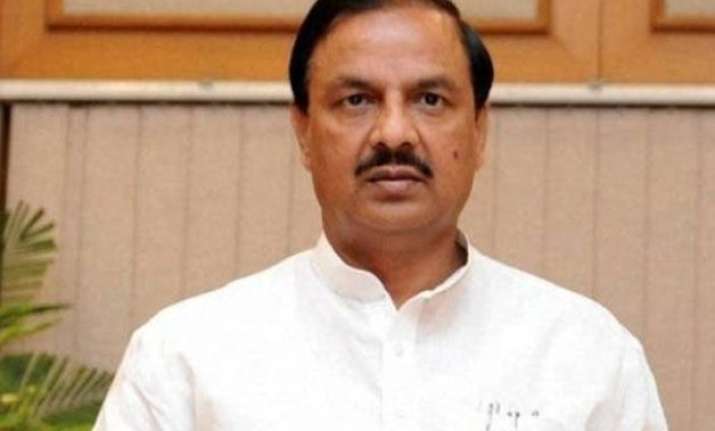 Dadri/New Delhi: Amid mounting tension over lynching of a 50-year-old man following rumours that he and his family had eaten beef, Union Minister Mahesh Sharma on Thursday described the incident as "an accident" even as a blame game erupted between BJP and ruling SP over it.
As police intensified security, the distraught family of Iqlakh said they were planning to move out of this Uttar Pradesh village in Greater Noida, apprehending more attacks on it.
"This (incident) should be considered an accident without giving any communal colour to it," Union Minister Sharma, who is the MP from the area, told reporters in Delhi, adding "I feel this incident occurred due to some misunderstanding and the law should truthfully act against whoever is responsible for it."
Iqlakh was beaten to death and his 22-year-old son Danish was critically injured by a 200-strong mob which barged into their house on Monday night following rumours that the family had consumed beef. Cow slaughter is banned in Uttar Pradesh. With tension gripping the area, the ruling Samajwadi Party hit out at BJP over Iqlakh's killing, accusing it of deliberately inciting violence ahead of 2017 assembly polls in Uttar Pradesh as part of efforts to polarise voters.
"BJP has been inciting large scale violence in UP ahead of the assembly polls. Such incidents are repeating after the Muzaffarnagar violence," said State cabinet Minister Azam Khan. Reacting to SP leader's charge, BJP MP Yogi Adityanath said the UP government was responsible for "jungle-raj" in the state. "Jungle-raj prevails in UP and the government backs the professional criminals and mafia to hide its failure. There is a complete anarchy in the state."
The Congress, on its part, accused BJP of making UP a "communal lab" to gain electoral mileage. "UP has been made a communal lab by BJP so that they can enhance their vote bank. The PM can continue to talk about development but it is extremely evident the real path of BJP is communal hatred," said Congress leader and former Union minister RPN Singh.