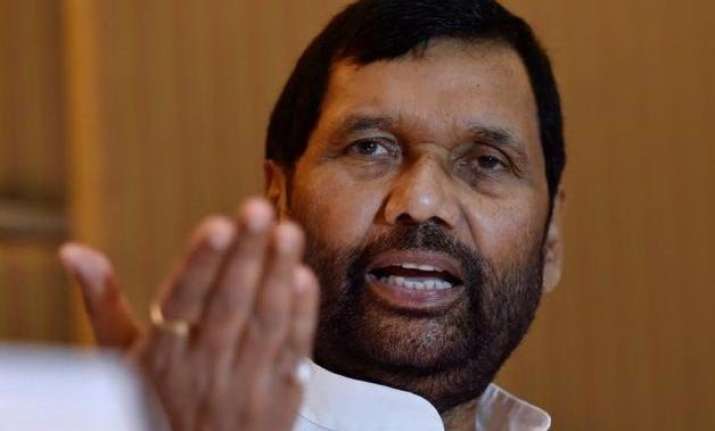 Patna: Union Minister Ramvilas Paswan today hit out at Nitish Kumar government over the law and order situation in Bihar, saying the present condition was worse than the "jungle raj of the 90s."
"It's return of jungle raj or say even worse than jungle raj that prevailed from 1990 to 2005 (RJD rule)," the Union Minister for Consumer Affairs, Food and Public Distribution said, adding Chief Minister Nitish Kumar has no "moral right to continue in the chair" when life of common man was not "protected".
Paswan, who visited family of LJP leader Brijnati Singh who was gunned down here last week, told newsmen "Bihar is earning a bad name due to the soaring crime graph and Chief Minister Nitish Kumar is busy patting his own back."
The LJP President also demanded CBI inquiry into the day-light murder of the leader and attack on his wife and sister-in-law at Kachhi Dargah area of Patna last week.
Asked if the killing was political, Paswan said, "The family members of the slain LJP leader have mentioned the name of Lalu Prasad in this connection ... Since its a high profile case, Bihar government should recommend a CBI probe into the murder."
He said everywhere he went, people were talking about bad law and order situation in Bihar under Kumar's present regime.
Hitting out at the RJD, Paswan said Kumar enjoyed free hand to run administration and rein in criminals during his days with the NDA.
"But he has lost voice in the present secular alliance coalition due to overriding presence of Lalu Prasad," Paswan alleged. "Water is now flowing above the head," Paswan said to paint a grim picture of the present law and order situation.
"The present government has failed to protect life of common man and CM Nitish Kumar and RJD leaders are talking about smart city and smart village," he said.