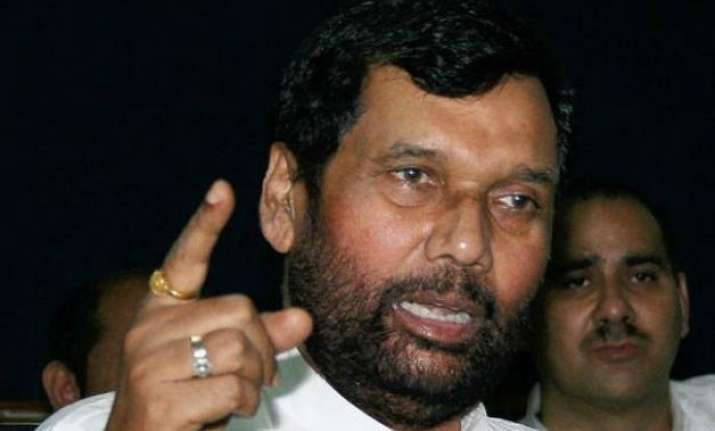 New Delhi: Union Minister Ram Vilas Paswan has predicted that 'Mahagathbandhan' government of the RJD, JD(U) and Congress led by CM Nitish Kumar in Bihar will fall in six months owing to the differences between the CM and Lalu, especially since the RJD chief was acting as the 'super CM'.
"From what I know about both of them, Lalu will continue to exert pressure and a hapless Nitish will have to bow down before his mighty partner," he told reporters on Sunday.
"Since Nitish is arrogant, he will not accept Lalu's diktat for long, and will resign. My friendly suggestion to Nitish is that he should put in his papers instead of taking the state back to the days of the 1990s when people feared to walk on roads after sunset," he added.
Slamming the state government for being unable to rein in spurt in crime cases, Paswan claimed that 'Bihar was firmly in the grip of 'jungle raj-2  and the situation was not much different from what most NDA functionaries had predicted during the assembly polls last year'.
"Bihar is firmly in the grip of 'jungle raj-2' given spate in crime comprising, murder, loot, dacoity and extortion in the past two months...the people of Bihar are living in an atmosphere of constant fear," he said.
Paswan said, "Nitish had promised good governance but the spurt in crime has proved us correct and everyone will accept that jungle raj has returned."
Paswan said his party (LJP) will take stock of the deteriorating law and order situation in the state and chalk out programme for statewide agitation on law and order issue.
The date of agitation and its nature will be decided in due course of time, the Union Minister said.
Elaborating on the deteriorating law and order situation, the Union Minister said three engineers, two of them from a road construction company, and several police officials have been killed by the criminals in the past couple of weeks. Even lawmakers are not safe as they receive calls for extortion and are issued threat to their lives if they failed to cough up the money.
Taking a dig at the RJD and its supremo Lalu Prasad, Paswan said the criminals and anti-social elements felt emboldened to take on the law under the present dispensation, including the RJD is a key constituent, they will continue to get patronage from it.
The LJP supremo did not spare Lalu Prasad's two minister sons - Tej Pratap Yadav and Tejaswi Yadav, alleging that two siblings were unable to provide safety and security to their constituents in Vaishali districts.