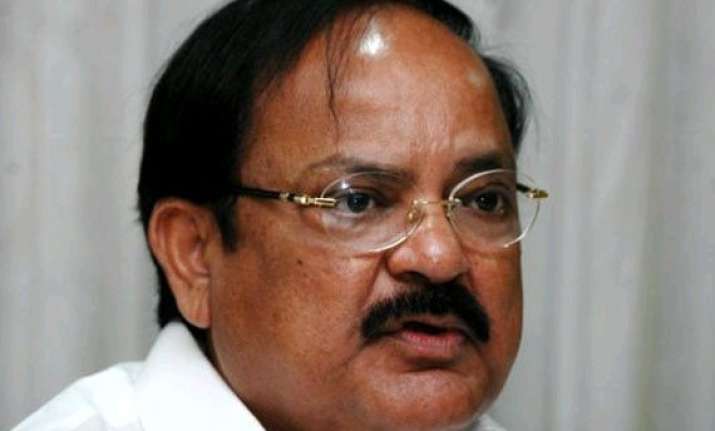 New Delhi: Hitting out at Congress for taking on Prime Minister Narendra Modi on the issue of ceasefire violations by Pakistan, BJP today termed criticism by the opposition party as "unfortunate" saying the sensitive issue should not be "politicised".
"Congress party has ruled the country for many number of years. It is  expected to respond in a more mature manner and in a responsible manner," Union Minister and senior BJP leader Venkaiah Naidu said on the sidelines of a function here when asked to comment on Congress' attack on the government over the issue of ceasefire violations by Pakistan.
Reminding Congress of the ceasefire violations that took place when it was in power, Naidu said, "An umpteen number of times ceasefire violations had taken place besides Pakistan abetting, aiding, funding and training terrorists in the country and we have not forgotten the 26/11 incident.
"So that being the case, Congress party is trying to politicise the sensitive issue which is related to the security of the country. It is unfortunate," he said.
Naidu said whatever is required will be done. "I hope they (Congress) understand what they are doing. As far as the government is concerned, we are alive to the situation and whatever is to happen, will happen," he said.
Hinting at a "conspiracy" hatched in Pakistan to divert attention from development initiatives taken by the Indian government, he said, "Pakistan will be made to understand what is the response of India. But I am afraid whether there is any conspiracy on the part of Pakistan to divert the attention of people from the faster development and great initiatives taken by in recent months."
BJP Secretary Srikant Sharma too criticised Congress along with NCP and other parties for "playing politics" on the sensitive issue.
"We condemn the Congress, NCP and other political parties for not leaving any opportunity of playing politics on this serious issue. It is because of their frustration over losing elections that they are criticising the government even without knowing of the ground situation.
"By criticising the Government they are trying to lower the morale of the forces," Sharma said even as he lauded the Indian forces for giving a befitting reply to Pakistan's cross border firing and the government for giving them a free hand.