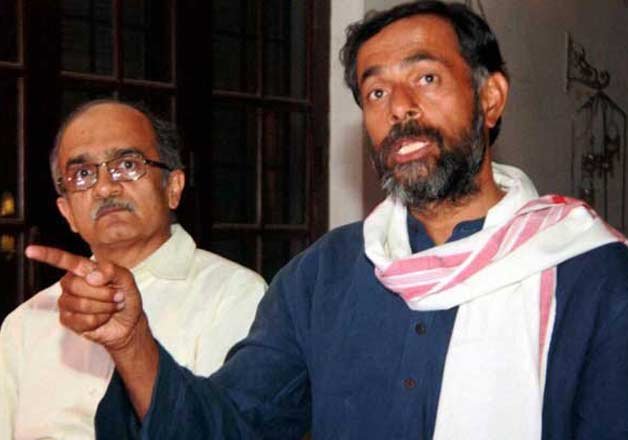 NEW DELHI: Rebel Aam Aadmi Party leaders, Prashant Bhushan and Yogendra Yadav on Tuesday rallied their supporters and announced the formation of a new non-political group 'Swaraj Abhiyan' that will work for alternative politics.
"The Swaraj Abhiyan will fight for the rights of farmers, women and common man across the country through protests and rallies," said a resolution passed at a day-long meeting
"After today's 'Swaraj Samvad' a proposal has been made that by the name of Swaraj Abhiyan an initiative would be taken," Yogendra Yadav told reporters.
"This program will do 4 works, will do agitation by taking people's issue, will organize swaraj dialogue. We will also make the strategy for country's future maps and will train workers," Yadav added.
Also Read: Swaraj Samvad: Yadav-Bhushan duo hits out at AAP leadership, demand transparency
"Supporter of alternative politics should welcome this step and those who can't, I can only feel sorry for them," Yadav said.
Significantly, Yadav said they would "not" quit AAP as he emphasised that it does not belong to a "single" person.
"It's a new beginning. If today we announce of forming a new political party, then dangers will be the same which AAP is facing," Prashant Bhushan said while initiating a dialogue ""on present and future of alternative politics".
Bhushan, who was particularly aggressive, sought to take on the party's top leadership for "threatening" to expel those attending the same, saying it meant that "there is no place for dialogue in the party".
Speaking at the 'Swaraj Samwad' convention in Gurgaon, Bhushan said, "Those who raised questions were expelled from top party posts. Today, I heard that we may be expelled for organising this samwad. The message from the top is that if you raise voice against the party, you will be expelled."
As to the crisis that has rocked AAP, Bhushan said that going to the court or Election Commission against those who have "captured" the party would be a "long and messy" affair. Yadav for his part said that the attendance at the meet was indicative of the fact that the problems which have beset AAP are not limited to only one or two people.
"Principled workers of the party do not agree on happenings in the AAP... the biggest challenge is to prevent hope from being broken," he said.
Both Bhushan and Yadav appeared to steer clear of the question of the launch of a new party even as they stressed on the importance of a "new start". "We need time to prepare, today is not the day for a new party. We will keep working for the people. We will not leave this party, it does not belong to a single person," Yadav said.
Echoing those thoughts, Bhushan said that "if today we announce the launch of a party" it would run into the "same situations" that AAP is now facing. "We will have to start a new dialogue on issues like challenges being faced by the farmers... development models in the country through swaraj and find solutions and launch a movement.
"The day we manage to show that our movement has stayed true to its ideals, we can make it a political party," the senior lawyer said.
Earlier, the rebels' meet began in the presence of volunteers from across the country, who termed it a day for a "new beginning" even as AAP warned of action against those attending the event.
Triggering speculation that they wanted to float a new party, Yadav and Bhushan had announced their decision to hold the 'Swaraj Samwad' meet to discuss the future course of action after their expulsion from AAP's top echelons.