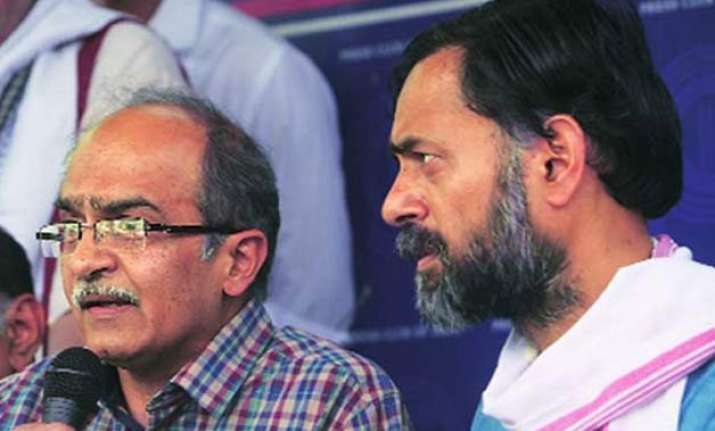 New Delhi: The 'Swaraj Samvad' by disgruntled Aam Aadmi Party (AAP) leaders Yogendra Yadav and Prashant Bhushan began in Gurgaon today. The two leaders again echoed the demands of internal democracy and transparency in AAP during the Samvad.
The two have called this convention to discuss the future course of action after their expulsion from party's top forums.
Among the leaders who were seen on the stage at the convention are the four expelled members from AAP's national executive — Yogendra Yadav, Prashant Bhushan, Anand Kumar and Ajit Jha. Timarpur MLA Pankaj Pushkar and several Lok Sabha candidates from various states are also among the attendees at the dialogue which is soon to end.
An audio recording of removed internal Lokpal of AAP, Admiral Ramdas, was played out. In his message, Ramdas said that a dialogue cannot be seen as an "anti party activity" and that people must be allowed to speak in a democracy. He urged the AAP that there should be no retribution for participation in the meeting.
Prashant Bhushan hit out at AAP convenor and Delhi Chief Minister Arvind Kejriwal during his addressal. He said that only one person is taking all the decisions of the party like a dictator. He asked how one leader in Delhi can decide whether party should contest elections in other states or not.
Bhushan said that the AAP had promised to be the first party with RTI but we don't even display the party decisions on the website. "Now we are hearing that as we have organized this dialogue, we have been removed from party," he added. 
However, he hinted that there is a very little chance of forming a new political party. He said, "If today we announce of forming a new political party, then dangers will be the same which AAP is facing.
Before the commencement of the meeting, Yogendra Yadav had claimed to have received tremendous response from the volunteers across the country.
However, many prominent leaders who were expected to attend the dialogue were missing. Christina Samy, Aruna Roy, Medha Patekar and Patiala MP Dharamvira Gandhi were nowhere to be found at the samvad.
Yadav took a jibe at AAP before the meeting and said that the whole event will be transparent, media will be allowed and even carrying of pens and mobile phones will be permitted.
"This is a new beginning. Volunteers have arrived here from across from the country. They all will be given an opportunity to express their views with an open mind at an open platform. We don't know where this will end... but whatever comes out from the meet, it will be a collective decision," Yadav said.
In the National Council meeting last month, which expelled the duo from the National Executive, media was not allowed neither were volunteers allowed to carry mobile phones and pens.
Sources close to Yadav and Bhushan said the rebel camp will not announce floating of a new party, but will raise issues of inner-party democracy and transparency in the organisation at the event.