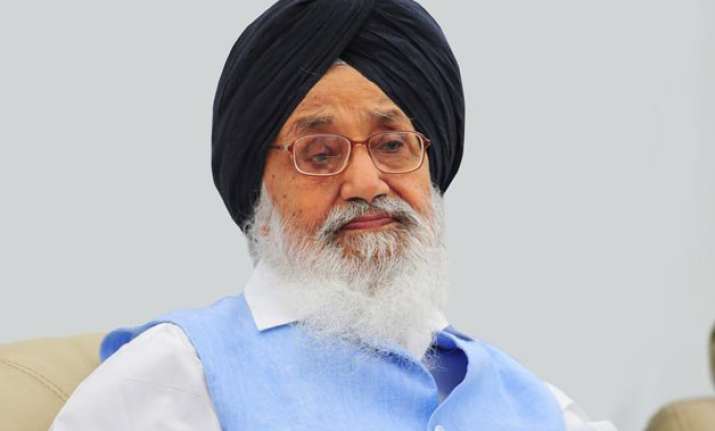 Gurdaspur: Punjab Chief Minister Parkash Singh Badal today said that incidents like the Pathankot terror strike must be dealt with a heavy hand and asked parties to refrain from politicising the issue.  
To combat cross border terrorism in the country in an effective manner, Badal said that both the Centre and state governments must work in uniformity.
Interacting with media persons here on the sidelines of a programme in Qadian assembly segment, the Chief Minister described the Pathankot terror strike as "most unfortunate incident".
He said that it was a high time that both the Centre and state governments evolve a strategy to deal with such dastardly acts. "Such incidents must be dealt with a heavy hand so as to avoid any threat to unity and integrity of the nation," he said.
Lauding the security personnel for showing exemplary courage in the Pathankot incident, the Chief Minister said that countrymen were proud of the brave hearts.  
Expressing grief over the death of security personnel in the operation, the Chief Minister said that state government was committed to help the bereaved families.  
"The state government would ensure timely and adequate help to the next of kin of these martyrs," he said. Badal also hoped that the Union government would take appropriate steps to help these families.
The Chief Minister said that it was unfortunate that some political parties were trying to taking mileage out of this issue.
"Parties must learn from the past experiences and refrain from politicizing the issues of grave national importance.  
"It is the need of hour that all the political parties must condemn this dastardly act unanimously," he added.  
Lauding the role of Punjab Police in the entire operation, the Chief Minister said that the force acted swiftly which helped to contain damage.  
"The central and state security agencies are on high alert and keeping a strict vigil on the entire situation," he said.