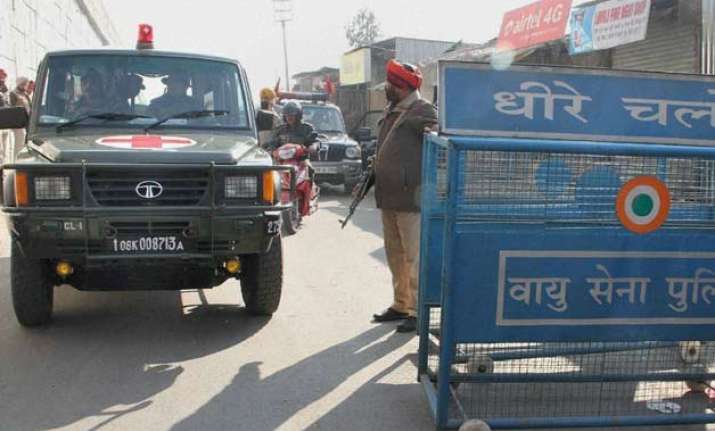 Pathankot (Punjab):  At least two more terrorists were discovered at Pathankot air base here as security forces continued their operations for the second day with military casualties mounting to seven including a Lieutenant Colonel of the NSG who died today.
Lt Col Niranjan, a member of the NSG's Bomb Disposal Squad and a Kerala resident, died after he succumbed to injuries which he sustained while he was trying to retrieve a live grenade from the body of a dead terrorist at the scene of the terror attack yesterday as part of the combing operations that continued through the night. Four other security men were also injured in the explosion.
Three Defence Security Corps (DSC) personnel also succumbed to injuries in the hospital here during the intervening Dec 2/3 night. A Garud commando and two members of the DSC were killed in the gunbattle yesterday in which four Pakistan-based terrorists had also been eliminated during the gunbattle at the airbase, located barely 35 km from the Indo-Pak border.
"We are sure that still there are at least two more terrorists as firing have come from two different places. But we are not sure whether there are some more. We will come to know the number of terrorists only after the completion of the operation and body count," Union Home Secretary Rajiv Mehrishi told a press conference in Delhi.
The comments by Mehrishi came a day after Home Minister Rajnath Singh tweeted saying the operation had been completed with the killing of five terrorists. Singh later deleted his tweet.
Mehrishi said four terrorists were killed in the gun-fight yesterday while firing resumed this afternoon at two places in the air base. he said all the assets of the IAF were safe.
"A fresh contact has been established and there was brief firing," a senior Army official said in Pathankot.
Air Commodore JS Dhamoon, Air Officer Commanding, Air Force Station Pathankot, said "The operations are at a mature stage. Operations will continue till the air base is cleared off any intruder or terrorist."
"The operations are at a mature stage. Operations will continue till the air base is cleared off any intruder or terrorist," he told reporters. "The operations are continuing".
There was heavy but brief exchange of fire at the area of operation where additional reinforcements rushed as five companies, comprising nearly 500 personnel, were deployed by the army. The firing was still continuing, police officials said.
Defence Minister Manohar Parrikar briefed Prime Minister Narendra Modi on the latest situation at the Pathankot air base. Both were present at a HAL function in Tumakuru in Karnataka.
The fresh exchange of fire in the afternoon and the grenade blast occured as the joint combing operation by the armed forces, police and security personnel was still underway and the NIA had taken over the probe into the terror attack.