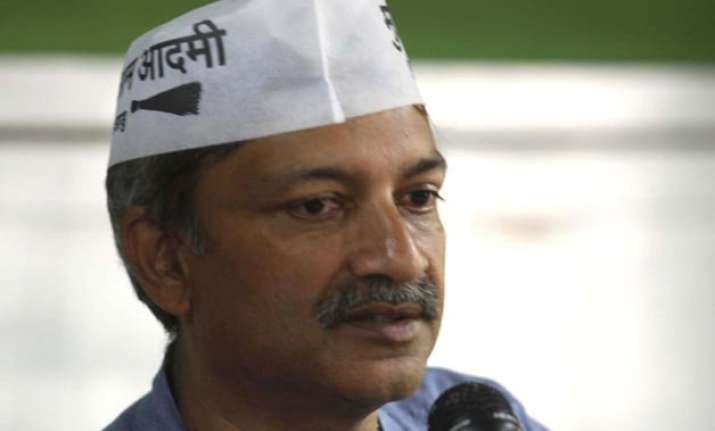 New Delhi: Senior Aam Aadmi Party (AAP) leader Mayank Gandhi today said that the sacking of two party leaders, from political affairs committee (PAC) Prashant Bhushan and Yogendra Yadav, is against the sentiments of the party members.
In a blog, Mayank defied Arvind Kejriwal's order and released details of how the two leaders were axed from PAC at the national executive meet.
Mayank claimed that on February 26 night when members of the national executive went to meet him, Kejriwal conveyed that he will not be able to work as party's national convenor, if these two members (Bhushan and Yadav) were part of the PAC. That was the background of the NE on 4th March'.
ALSO READ: Kejriwal insisted on axing Bhushan, Yadav from AAP's PAC
"During the Delhi campaign, Bhushan had threatened multiple times that he will hold press conference against the party, because of his concerns on candidate selection. Some of us were successful in somehow or other to stave off the threat till the elections. It was alleged that Yadav was conspiring against Kejriwal and some evidences were produced. There were also operational irreconcilable differences and trust deficit between the three," Mayank's blog reads.
At yesterday's national executive meet, according to Mayank, Yogendra said that he understood that Arvind did not want them in PAC, as it was difficult to him to work together. He and Prashant would be happy to stay out of PAC, but they should not be singled out. Two formulas were put forward by him:
1. The PAC be reconstituted and new PAC members be elected through voting. Bhushan and Yadav will not put their candidature.
2. That PAC continue to function in the present form and YY and PB would not attend any of the meetings.
ALSO READ: AAP ousts Bhushan, Yadav from top body in split decision
The meeting broke for some time. After reassembling, the pro-Kejriwal camp proposed a resolution that Bhushan and Yadav be removed from the PAC and it was seconded by many Kejriwal loyalists including Sanjay Singh.
Mayank also gave two reasons why he opted to remain out from the voting:
1. Arvind needs a smooth working in the PAC. So, I agreed that Bhushan and Yadav may be out of PAC and take some alternate important roles.
2. I was taken aback by the resolution of removing them publicly, especially as they themselves were willing to leave. Also, this decision to sack them was against the overwhelming sentiments of volunteers from all over the world.
"While I agreed that they can step down from the PAC, the manner and intention behind the resolution was not acceptable. Hence, the decision to abstain," Mayak's blog reads.
With 19 of the 21 members attending the AAP's national executive, 11 voted to drop Bhushan and Yadav from the PAC while eight voted against.