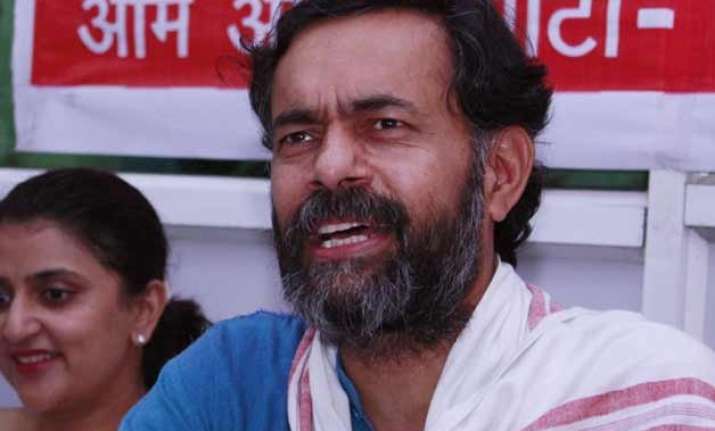 New Delhi: Aam Aadmi Party (AAP) leader Yogendra Yadav yesterday night claimed that top party brass was aware of the issue of 'bogus donations' raised by breakaway volunteer group AAP Volunteer Action Manch (AVAM).
Economic Times reported that Yadav claimed to have told the rebels that while the issue was 'relevant', he asked them not to take it beyond the confines of the organization until the elections got over.
ALSO READ: Attempt being made to remove Kejriwal, says AAP
He also revealed that Prashant Bhushan was appointed to probe the allegations. It should be noted that when Prashant was approached seeking his reacting on the matter at that time, he had refused to comment saying that he will speak after the polls.
Just ahead of the assembly polls, the AVAM had accused Kejriwal-led party of accepting bogus funds.
Yadav further clarified that neither he nor Prashant was anxious for power or money.
When asked about national executive meet convened for March 4 to decide the fate of the two founding members of the party, he said, "Whether me or Prashantji are in Political Affairs Committee or not is a non-issue for me."
Yadav also tried to play down his differences with Kejriwal saying, "It is not a clash. It is a difference of opinion."
Party's Delhi unit secretary Dilip Pandey had earlier written a letter, which was released on March 1, accusing Yadav, Prashant and, Shanti Bhushan of conspiring to unseat Kejriwal as national convenor.
Dilip claimed that after Lok Sabha poll debacle it was amply evident that all three were acting in concert towards a singular aim of weakening the party and then replacing Kejriwal with Yadav as party head.