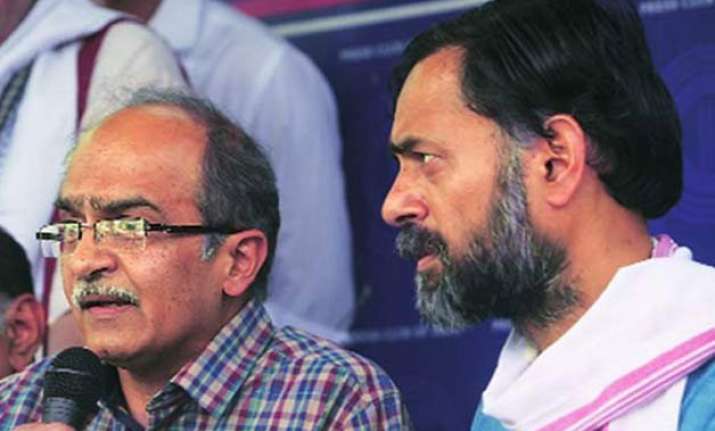 In a fresh revelation to the ongoing AAP Crisis, an editorial in party's mouth piece has claimed that  Fights and 'battles for supremacy began  between rebel AAP leaders Yogendra Yadav-Prashant Bhushan and Arvind Kejriwal began even before 2013 Delhi Assembly elections.
Interestingly, the article goes on to justify the 'abuses' that Kejriwal hurled on the duo.
 "What is being termed as Arvind's use of abusive language and his arrogance is actually his insistence on making India 'corruption-free'. The truth is that Arvind is not ready to tolerate any obstacle in order to achieve this 'goal' and it is this determination that makes him 'Arvind'."
The editorial adds a new twist to the popular perception that chinks within party surfaced after debacle of 2014 Lok Sabha elections.
Since AAP's historic mandate in February polls, the two factions have been involved in an ugly public spat, with Yadav and Bhushan accusing Kejriwal of running the party like a dictator and gagging the internal democracy in the party.
The duo was ousted from the party's top decision-making bodies and in turn they have vowed to continue their struggle for swaraj without leaving the organization.
Also Read: Swaraj Samvad: Yadav-Bhushan duo hits out at AAP leadership, demand transparency
The editorial in AAP Ki Kranti, cites specific examples, the duo's first big fight with Kejriwal surfaced on October 14 2013 'which left Kejriwal disturbed for 15 days', only days before AAP won 28 seats and went on to form government in Delhi for the first time and "since then, the ambitious designs of these leaders started becoming clear from time-to-time, " it claimed.
The article also terms the duo's role in party's internal democracy as inconsequential.
"The controversy between Prashant and Yogendra and AAP has been portrayed in the media as two factions of the party when that is not really the case.
Also Read: Bhushan and Yadav launch new group of AAP rebels, call it Swaraj Abhiyan
Everything is being done in a well-organised and pre-decided manner. The people that media is calling 'important' are no doubt, big, but their role in party's internal hierarchy is 'inconsequential," the article further adds.