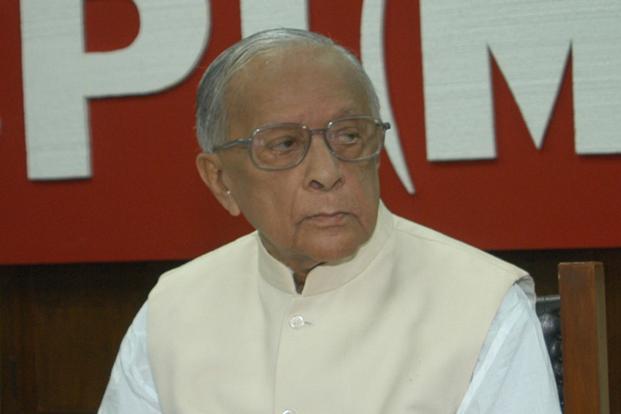 The Communist Party of India today said that making the legendary Jyoti Basu the Prime Minister of the country was an experiment "worth-trying".
The party, however, added that it was not sure whether the move would have helped the Left expand its influence beyond its traditional strongholds.
"That I can't say because it depends on how far the other partners of United Front would have cooperated with us in bringing basic reforms and all that," CPI general secretary S Sudhakar Reddy said when asked if Basu as PM would have enabled the Left to spread its wings outside West Bengal, Kerala and Tripura.
Significantly, Basu himself had dubbed as "historic blunder" the decision of the majority in his party's top decision making body to turn down the offer to make him as PM by the partners of the United Front, which came to power as an alternative to the Congress and the BJP 20 years ago.
The CPI-M at that time did not let Basu, the then Chief Minister of West Bengal, to accept the post on the ground that the move would involve joining hands with "bourgeois" outfits like the Congress.
"But it would have been a worth-trying experiment where the Left was to be given the first opportunity to see to it that something should be set right at the national level. It is not just advising from the Opposition or criticising from the Opposition. You are given the keys, you decide, may be we would have been right or wrong. But the experiment should have been tried, definitely," he said.
"At that time itself (20 years ago), our party (CPI) felt it was not correct on their (CP-M's) part, not to take that initiative which had come into the hands of the Left," Reddy said.
While admitting that the Left is today facing a "very big challenge" in view of erosion of electoral base and political influence, he said it believes that there is a possibility to strengthen its presence because of one positive thing -- "contradiction and very big gap" between the government's "pro-corporate and anti-people policies on one side and people's needs and their desires on the other".
"The vision of the NDA government is different and the desire of the people is different. So, this will bring both these forces into a clash, and we believe that the Left alone can give a proper channel to bring all these anger of the people into a proper form, in the form a struggle to fight against government policies," Reddy said.
Basu, who served as the West Bengal chief minister for 23 years, from June 21, 1977, to November 6, 2000, passed away in 2010.