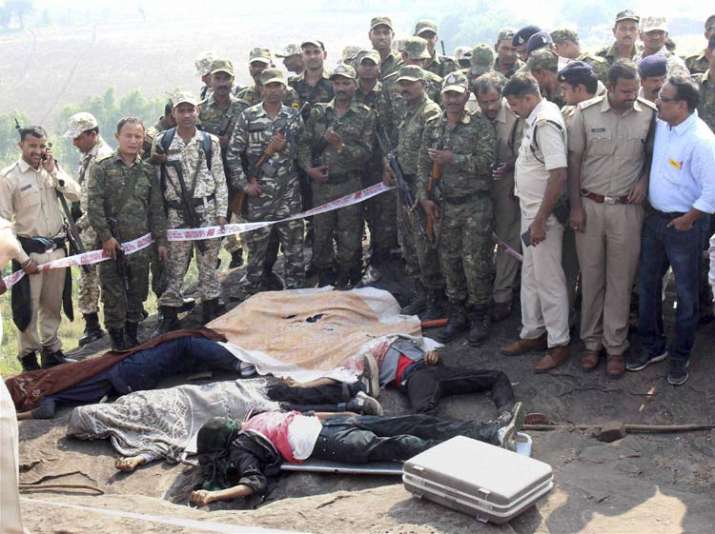 Congress and other opposition parties on Monday demanded a judicial probe into the killing of eight SIMI activists in an encounter after their escape from Bhopal Central jail and have questioned the veracity of Madhya Pradesh government's claim of 'encounter'.
While Congress and CPI-M sought a judicial probe so people get to know the truth, the BJP questioned Congress for coming in support of Students Islamic Movement of India (SIMI) terrorists and accused it of politicising the incident. 
Congress
"I am demanding a judicial probe because even the government must know under what circumstances they escaped. People of the state and country must know how terrorists with with such a record were able to escape from such a high security jail and within hours caught and shot dead," Congress leader Kamal Nath, a Lok Sabha MP from Madhya Pradesh, said. 
His party colleague Manish Tewari, however, said he would comment on the issue after more details are received since the situation is still evolving. 
"It is an evolving situation. Let the police come out with further details as to what happened. We will await for the details. It's much better to wait for more details," he said. 
Meanwhile, a video, purportedly showing the scenes of encounter, has emerged in which police are seen shooting at motionless men, believed to be suspected SIMI activists. 
Just after SIMI activists escaped the jail, Congress leader and former Madhya Pradesh P Chief Minister Digvijay Singh tweeted, "Have escaped or were allowed to escape under scheme? It should be a subject of investigation. Administration will have to ensure that communal harmony is not disturbed."
After they were killed in the purported encounter, Digvijay Singh said, "The way the escape happened and encounter took place should be investigated. SIMI activists escaped from Khandwa Jail and from Bhopal Jail. Administration should ensure that the situation is controlled."
AIMIM
All India Majlis-e-Ittehadul Muslimeen (AIMIM) President and Lok Sabha MP Asaduddin Owaisi has also demanded an independent probe into the incident. 
Commenting on the encounter, he said, "It is surprising and shocking that eight alleged SIMI activists fled from high security jail. They were wearing shoes watches and belts (when they were killed). Do under-trials get such things in jail?"
"The state home minister and police have given different versions of the encounter. I demand proper investigation," he said.
Left parties 
Communist Party of India (Marxist) has asked for an independent High Court probe into the matter with its polit bureau member Brinda Karat calling the government's version as "dubious and suspicious." 
"The entire government version is highly dubious and suspicious and full of self-contradictory statements and, therefore, to get to the truth it is essential to have independent probe under the High Court judge and it should be time bound because nobody could believe of what seems to be an entirely manufactured version. I also want to say these are under trial prisoners and to call them SIMI terrorists is to subvert the law of this land," she told new agency ANI.
CPI leader D. Raja raised similar questions and asked for judicial probe into the matter and urged the Centre to ask for a detailed report from the Madhya Pradesh Government.
"It raises several questions. First, how such a breach could take place in a high security prison in Bhopal. It raises questions on the jail administration. Afterwards they were gunned down, how did the encounter take place, did they posses any arms, these all are serious questions which need to be answered. There should be a high-level judicial probe to go into all these questions. The Centre should question Madhya Pradesh. Whatever the state government has done so far, it is inadequate considering the gravity of the issue," Raja was quoted as saying by the ANI.
AAP
Delhi Chief Minister and Aam Aadmi Party national convenor Arvind Kejriwal demanded a Supreme Court-monitored investigation into the alleged encounter killing of eight SIMI activists in Bhopal. 
"This is very serious. We demand an SC monitored investigation," he said on twitter. 
AAP MLA Alka Lamba also raised suspicion on the encounter. 
"Eight convicts escaped and then shot dead in an encounter within eight hours in the outskirts. It seems that state government had some Vyapam formula for this," she tweeted. 
BJP's response 
Bhartiya Janata Party, which rules both at the state and Centre, has slammed the opposition leaders for questioning the authenticity of government's version of jailbreak and encounter. 
BJP spokesperson Siddharth Nath Singh said, "Digvijaya Singh should have patted the back of state police. He has sympathy for terrorists."
"In the past he had supported Batla House. It's unfortunate that he is raising questions. What makes Digvijaya Singh arrive at the conclusion?" he asked. 
Coming out in defence of the police action, BJP spokesperson GVL Narasimha Rao accused the Congress of batting for terrorists belonging to SIMI the way it had done for LeT in the past. 
"I don't think why Congress wants to speak up for such individuals. Politicising the encounter is certainy not a done thing. But Congress party has done this for a long time. 
"Looking at the way Congress is politicising the encounter, and that too concerning the particular group or organisation, is a matter of concern. Congress seems to raise concern only when LeT terrorists are killed and when SIMI activists who are convicted and involved in jailbreak. Congress party springing to their defence raises curiosity," he said. 
Speaking over the row, Madhya Pradesh Home Minister Bhupendra Singh said that national security must take priority over politics and that the police did not have any choice at the moment.
"Our Madhya Pradesh Police has achieved a great success by foiling a possible terror threat to the nation. When there is an encounter, the police have no other option but to open fire. Why is why this case has been handed over to the NIA so that a proper probe can be conducted," Singh said.
There are existing Supreme Court guidelines which mandate registration of FIRs and investigation by CID or any other independent agency. 
The activists of the banned Students Islamic Movement of India had managed to escape around 2-3 AM after killing a jail security guard and scaling the prison wall with the help of bed sheets, DIG Bhopal Raman Singh said.
The Union Home Ministry has sought a detailed report from the Madhya Pradesh government on the jail break whether there was any lapse on the part of the jail administration and the steps taken to check such incidents.
Who were these suspected SIMI terrorists 
The activists were identified as -- Amzad, Zakir Hussain Sadiq, Mohammad Salik, Mujeeb Shaikh, Mehbood Guddu, Mohammad Kalid Ahmed, Aqeel and Majid, a police official said.
Soon after the incident, the state government today released their sketches and suspended four officials including Jail Superintendent Akhilesh Tomar. It had also announced a reward of Rs 5 lakh each on the heads of the activists.
This is the second major jail break by operatives of banned SIMI in three years after the sensational escape by seven members of the group from a jail in Khandwa in Madhya Pradesh in 2013.
The central security agencies were particularly anxious as four of the seven SIMI activities, who escaped from a jail in Khandwa October 1, 2013, could be arrested only after three years and during the period of their hiding, the militants were involved in multiple incidents of terror and a bank robbery.
While in hiding, the SIMI men were allegedly involved in terror activities in several states including Madhya Pradesh, Andhra Pradesh, Telangana, Karnataka, Tamil Nadu, Maharashtra, Uttarakhand and Uttar Pradesh.
SIMI was banned by the government in 2001.