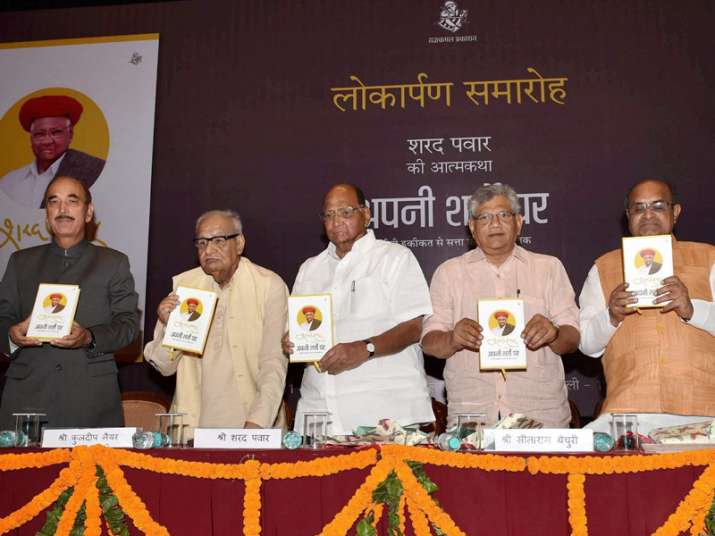 Amidst a raging debate on cow slaughter across the country, Nationalist Congress Party (NCP) chief Sharad Pawar on Tuesday invoked Hindu Mahasabha leader Vinayak Savarkar to attack the RSS for seeking a complete ban on cow slaughter across the country.
Speaking at the release of his autobiography 'Apani Sharton Par' (On My Terms) here in the presence of opposition leaders, Pawar underlined Savarkar's remarks that 'cows should not become a burden on farmers'.
Recalling Savarkar, hailed by the Hindu right, Pawar said that he had termed cow as 'just a useful animal' and would found nothing wrong if bovine animals were killed for meat if they became a 'burden' on farmer. 
"One day, the head of an organisation said that cow slaughter should be banned across the country," he said without naming RSS chief Mohan Bhagwat. 
Referring to the recent lynching of a Muslim man by cow vigilantes in Rajasthan's Alwar, Pawar said, "People are being attacked, killed. It is strange." 
The NCP veteran said there was nothing wrong if some sections of countrymen considered cow as mother, but insisted on respecting those who held a different view. 
"Savarkar had publicly said that cow is a useful animal. He would say he would not blame anyone if he or she kills and eats its meat when it is not useful, becomes burden on farmer. We cannot ignore his thinking," he said. 
Bhagwat had on April 9 condemned violence by cow protection groups, saying it 'defames' the cause but made it clear that the Hindutva organisation wanted a law banning cow slaughter across the country.