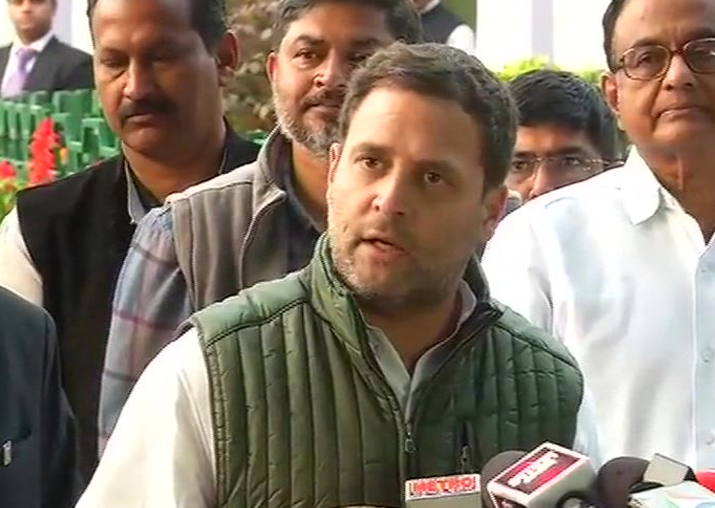 Congress president Rahul Gandhi today launched a blistering attack on Prime Minister Narendra Modi over Rs 11,400 crore Punjab National Bank (PNB) fraud involving jewellery designer Nirav Modi.
Speaking to media persons in New Delhi , Rahul said that the scam began with the decision to scrap Rs 500 and Rs 1,000 currency notes from the economy on November 8, 2016.
He said that PM Modi had assured the people of the country for safeguarding their money in the banks, but he failed to do so.
The Congress also questioned the silence of PM Modi over the PNB fraud and sought details of the steps the government was taking to deal with the scam that has hit the country's largest lender.
"The PM should come out and say what has happened (on Nirav Modi) and why? And what was he doing about it," he told reporters after the first meeting of the Congress steering committee that will function in place of the working committee (CWC), the highest decision making body of the party.
Rahul Gandhi alleged that the Prime Minister's Office (PMO) was aware of the wrongdoings at the bank.
He rejected the BJP charge that he had personal ties with Nirav Modi and had attended his promotional event, saying "they are trying to divert the issue".
The Congress chief alleged that businessman Nirav Modi has fled the country with Rs 20,000 crore of that public money.
"This Rs 22,000 Crore scam could not have occured without a high level protection. It must have been known by the people in government beforehand otherwise it is not possible. PM will have to come forward and answer questions," he said.
"The prime minister teaches children how to take exams for 1.5 hours , but fails to tell the country on who is responsible for this scam," he said.
Rahul also said while the defence minister and social justice minister were briefing on the issue, "the FM and the PM, who are responsible, have not said anything about it".