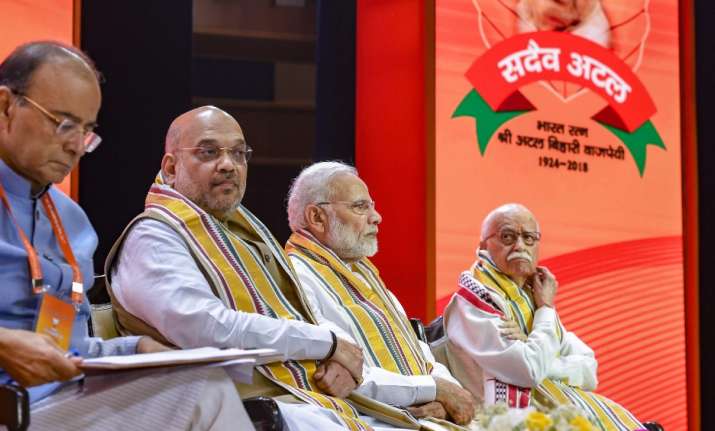 The top brass of ruling party BJP is meeting in Delhi for its two-day National Executive meeting in New Delhi. The meeting, jointly inaugurated by BJP President Amit Shah and Prime Minister Narendra Modi on Saturday, is likely to set the agenda for upcoming assembly and Lok Sabha elections. National Executive will also discuss ways to ensure how the work of the Narendra Modi government can be taken to the people in the most effective manner. 
Prime Minister Narendra Modi addressed the valedictory session of BJP National Executive meeting in New Delhi on Sunday. First meeting since the demise of former prime minister Atal Bihari Vajapyee, it is being attended by the party's national leadership, key leaders from all states and union territories and office bearers. 
Speaking at the inaugural ceremony, BJP president on Saturday described the grand alliance of opposition parties as an eyewash, illusion and based on falsehood. He added, the parties which are in grand alliance have been defeated by BJP even after 2014 and such alliance will not make any difference.  
Here are the Latest Updates from BJP National Executive meet in New Delhi: 
06:15 pm: Party President Amit Shah also said that we will win 2019 polls&after 2019 polls victory, nobody will be able to remove us for next 50 years. We are not saying this out of pride but on basis of our work: Union Minister Ravi Shankar Prasad after BJP's national executive meeting
05:58 pm: PM Modi used three powerful words to describe Mahagathbandhan; netritva ka pata nahi, neeti aspashth, neeyat brasht: Union Minister Ravi Shankar Prasad after BJP's national executive meeting
05:35 pm: PM Modi gave 'Ajay Bharat-Atal BJP' slogan in the meeting
05:30 pm: Let's come together for the 2019 Lok Sabha elections: PM Modi
05:20 pm: Educate people about the achievements of the government: PM Modi to party workers
05:15 pm: Atal Bihari Vajpayee took BJP to new heights: PM Modi
​Catch all the latest news about Lok Sabha elections 2019 HERE
12:10 pm: Political resolution moved by Home Minister Rajnath Singh at BJP's national executive meeting. The resolution praised PM Modi's vision 2022. The resolution also talked about 'new India' and a poverty-free India where no one will be shelterless. 
Highlights of the Vision 2022 document (Read full story here)
On Opposition: 
Since 2014, BJP has won elections in 15 states, bringing the number of states ruled by BJP to 20. Opposition is in 10 states and Congress has been limited to three. Thus, the opposition parties are trying to form the grand alliance as a last ditch effort, but they lack a strong leader like Narendra Modi. Opposition has but one agenda - stop Modi. That is the reason that Opposition is planning to form such an immoral alliance. 
On Economy: 
We inherited weak, opaque and completely capitalistic economy. We have taken steps to fundamentally improve the conditions. Christened creative destruction, demonetisation and GST have helped improve economy tremendously. Corruption has been completely brought under control and GDP is rising exponentially after the initial hiccup. 
On internal security 
NRC is a  great aid for the country's internal security. We will take steps to give shelter and protection to refugees in India but will expel illegal Bangladeshi and Rohingya immigrants. The steps taken in Jammu and Kashmir has brought militancy under control. The BJP put nation above party for Kashmir's betterment. 
On new India
We will forma New India where no one will be homeless, there is no terrorism, no corruption, no casteism and no communalism. 
1:42 am: Home Minister Rajnath Singh present political proposal named 'Vision 2022'.
10:46 am: PM Modi reaches to attend second day of BJP National Executive Meet being held at Dr Ambedkar International Centre.
10:04 am:
Delhi: Maharashtra CM Devendra Fadnavis and Uttarakhand CM Trivendra Singh Rawat arrive for BJP National executive meeting. #BJPNEC2018 pic.twitter.com/iKbDn5341v

— ANI (@ANI) September 9, 2018