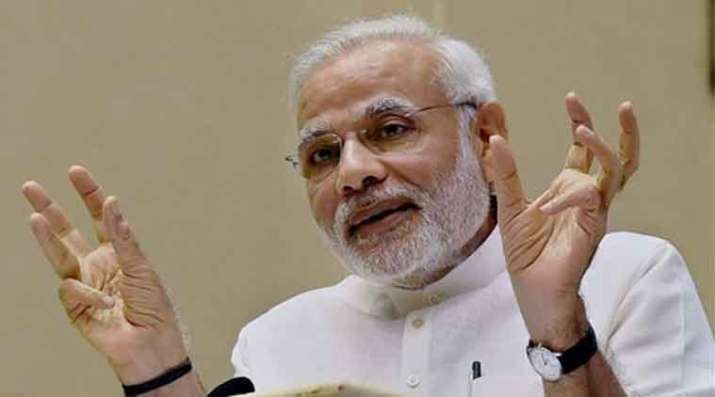 On the National Panchayati Day, PM Modi is on a visit to Madhya Pradesh's Mandla district where he will participate in a host of public programmes.
In keeping with the government's commitment towards a clean, healthy and electrified India, Modi felicitated village heads with 100 per cent smokeless kitchens, 100 per cent vaccination under Mission Indradhanush and total electrification under the Saubhagya Scheme.
The PM also laid the foundation stone of an LPG bottling plant of the Indian Oil Corporation at Maneri and launched a local government directory. 
WATCH: PM Modi's speech during a public gathering Mandla 
youtube:youtube.com/watch?v=mFHhc2tLFSE}
Highlights of PM Modi's speech in Mandla:
01:38 pm: The Government has changed the law and introduced death sentence for rape. This Government understands the sentiments of people and listens to their 'Mann Ki Baat'. There is a need for a social movement to teach our boys to respect the girls in the family: PM Modi
01:38 pm: Jai Jawan, Jai Kisan, Jai Vigyan -- let us move ahead with this slogan: PM Modi
01:36 pm: As public representatives working across the villages, I appeal to you to focus on Jan Dhan, Van Dhan, Gobar Dhan. Ensure that people have Jan Dhan accounts and insurance coverage under the Government schemes : PM Modi.
01:35 pm: Let us pledge that by 2022, we develop our villages along the lines of what Mahatma Gandhi had once wished for, says PM Modi.
01:29 pm: Think about what you can do for water conservation in the villages. Every drop of water should be conserved: PM in Madhya Pradesh's Mandla.
01:25 pm: Education of our children is very important. Education is important for a child's future. Let's pledge to help them complete their education: PM Modi 
01:18 pm: I urge the pradhans of our villages to pledge today to do something for our villages. Let me assure you that the Centre will always help you in the development of villages : PM Modi.
01:11 pm: People of villages have shown trust in us, we are committed to fulfill their wishes: PM Modi
हम जनप्रतिनिधि सरकार के सेवक नहीं है, हम जनता की सेवा के लिए चुनकर आते हैं : पीएम मोदी

— BJP (@BJP4India) April 24, 2018
01:10 pm: It was Mahatma Gandhi who had visualised the concept of 'Gram Swaraj'. Bapu always highlighted the importance of villages and spoke about 'Gram Swaraj' : PM Modi
01:08 pm: I am elated to be in the land of Maa Narmada. I bow before Maa Narmada: PM Modi
01:01 pm: PM Modi addresses public gathering in mandala on National Panchayati Raj Day
09:58 am: Elaborate security arrangements are being made for the prime minister's visit, an official said. 
09:56 am: The prime minister will address a rally on Adivasi Diwas and unveil a road map for the overall development of tribals in five years, a Prime Minister's Office release said.
09:52 am: Union Panchayati Raj and Rural Development Minister Narendra Singh Tomar, state Agriculture Minister Purushottam Rupala and Rural Development Minister Gopal Bhargava will be present.
09:50 am: Former Union minister and Mandla MP Faggan Singh Kulaste said the 'Aadi Mahotsav', a three-day event, is aimed at showcasing the rich heritage and traditions of tribals.
09:36 am: The prime minister will unveil a road map for overall development of tribals during the next five years and will unveil a plaque to mark the laying of foundation stone of an LPG bottling plant of Indian Oil Corporation at Maneri in Mandla district.