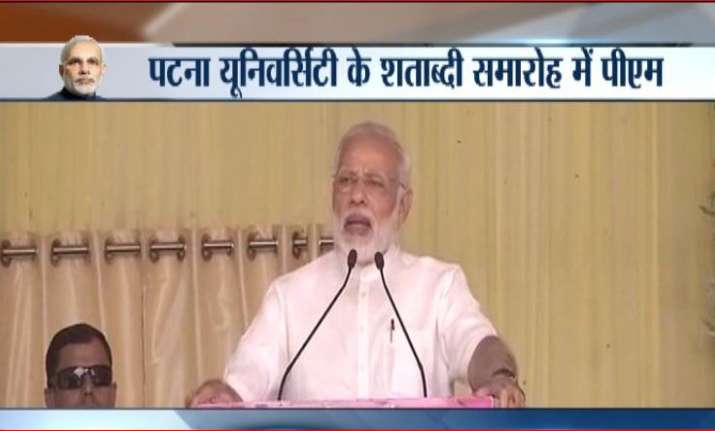 PM Narendra Modi is in Bihar today where he is attending the centenary celebrations of the Patna University. The prime minister is also expected to launch development projects worth over Rs 3,700 crore.
In Bihar, PM Modi was received by Bihar Governor Satyapal Malik, Chief Minister Nitish Kumar and several Bharatiya Janata Party leaders.
This is PM's first full-fledged official tour to Bihar since the BJP became a part of the ruling coalition in the state in July this year.
PM Narendra Modi at centenary celebrations of the Patna University: HIGHLIGHTS
- In 2022, when India celebrates 75 years of Independence, Bihar should be among prosperous states of the country.
- India is a youthful nation, blessed with youthful aspirations. Our youngsters can do a lot for the nation and the world.
- The more we stress on innovative learning, the more our country will be stronger globally.
- A nation seen as a land of snake charmers has distinguished itself in the IT sector.
- Living in an era of globalisation, we need to understand the changing trends across the world and the increased spirit of competitiveness. In that context India has to make its place in the world.
- From conventional teaching, our universities need to move towards innovative learning.
- Bihar is blessed with both 'Gyaan' and 'Ganga.' This land has a legacy that is unique.
- In every state, the senior level of the civil services has officers who have studied in Patna University.
-The commitment of Nitish Kumar towards Bihar's progress is commendable.
- Most qualified bureaucrats hail from Bihar.
- Bihar will be a developed state by 2022.
-  Patna University produces most IAS officers.
- Honoured to be at Patna University, says PM Narendra Modi.
The commitment of Nitish Kumar ji towards the progress of Bihar is commendable: PM Modi in Patna University pic.twitter.com/TihuAvSdWY

— ANI (@ANI) October 14, 2017
-
#WATCH Live from Patna: PM Narendra Modi at Centenary Celebrations of Patna University https://t.co/AstzZFDhMo

— ANI (@ANI) October 14, 2017
11:40 am: CM Nitish Kumar is addressing people at the centenary celebrations of the Patna University.
I humbly request that Patna University should be granted central university status: Bihar CM Nitish Kumar in Patna pic.twitter.com/LZtx1cBh3g

— ANI (@ANI) October 14, 2017
11:55 am: PM Narendra Modi is speaking at the centenary celebrations of Patna University in Bihar.
11:32 am: Bihar Chief Minister Nitish Kumar welcomes PM Narendra Modi at Patna airport.
PM Narendra Modi arrives in Patna, received by Bihar Chief Minister Nitish Kumar pic.twitter.com/D2HKVGkKD2

— ANI (@ANI) October 14, 2017
11:00 am: Additional Director General of Police (Headquarters) said seven Superintendents of Police and 12 deputy SPs have been deployed to oversee the security arrangements and regulation of road traffic during nearly five-hour stay of the prime minister in the state.
10:50 am: After attending the Patna University function, the prime minister will fly to Mokama, which is in Patna district about 100 km from the capital city, where he will lay the foundation stones for four sewerage projects under the Namami Gange Programme and four national highway projects.
10:43 am: At Mokama, Modi will lay the foundation stone for four Rs 3031 crore national highways projects and as many sewage treatment plants (STPs) and related works worth Rs 738.04 crore, an official statement said.
10:39 am: Union Road Transport minister Nitin Gadkari, who also holds the portfolio of water resources, will accompany the prime minister for the ceremony.
10:30 am: The four sewerage projects for which the foundation stone will be laid are Sewage Treatment Plant at Beur, Sewerage System with Sewer Network at Beur, Sewage Treatment Plant at Karmalichak, and Sewage Treatment Plant and Sewer Network at Saidpur -- all in state capital Patna.
10:28 am: "These projects together will create new STP capacity of 120 MLD and upgrade the existing 20 MLD for Beur," said an official statement.
10:25 am: The other three projects are four-laning of Bakhtiyarpur-Mokama section of NH-31, two-lane construction of Maheshkhunt-Saharsa-Purnea section of NH-107 and two-lane construction of Biharsharif-Barbigha-Mokama section of NH-82.