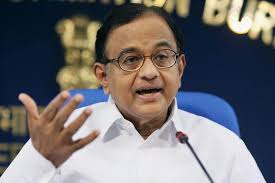 Former Union minister P Chidambaram today said he regrets the Armed Forces (Special Powers) Act (AFSPA) was not repealed while Congress was in power and hoped the Narendra Modi government, with its absolute majority in the Lok Sabha, scraps it.
Not repealing the Act when Congress had absolute majority in the Lok Sabha was "one of the biggest regrets", he said, adding that scrapping of the AFSPA will send a positive message across the Northeastern states.
"You can build hundreds of kilometres of roads, you can build hydro electric projects, electrify all villages, (but) nothing is equal to repeal of AFSPA," the former Union Home Minister said at an Asia Society event here.
"AFSPA is a draconian, inhuman law but we couldn't repeal it. Why? Because the Congress, in many ways, is as contradicting as Parliament is, as our polity is. There are as many views in the Congress as there are in polity or as in Parliament.
"There is an amendment lying at the table of the prime minister and home minister but why is this government with 282 members of its own in Lok Sabha unwilling to repeal AFSPA? I think they believe that AFSPA is necessary. They believe that AFSPA is desirable and given a chance they will make it more stringent," Chidambaram said.
To a question at this interactive program about the political situation in the country, he said, "2016 was the year in which the voices of opposition should have been raised and the government ought to have listened to those voices. Unfortunately the voices of opposition were muted in 2016. Academic institutions were intimidated. Scholars were silent and the business community turned timid.
"We must express ourselves fearlessly. That is the mark of an open democratic society. We cannot allow this country to shrink into fear. That's is why I continue to speak, I continue to write and I will, until the last breath in my body, remain fearless, whether in opposition or elsewhere," he said.
"Unless there is a conversation between the ruling party and opposition on a daily basis, we cannot resolve the issues," he said.
"I think our future PM must declare on the first day that every week he will meet with the leader of Opposition and spend two or three hours. We should set up shadow ministers in Opposition," he said.
"It is completely unsatisfactory that we meet once in three months in Parliament. Unless there is a constant discussion between the ruling and opposition party, I don't think our system will become better," he said.