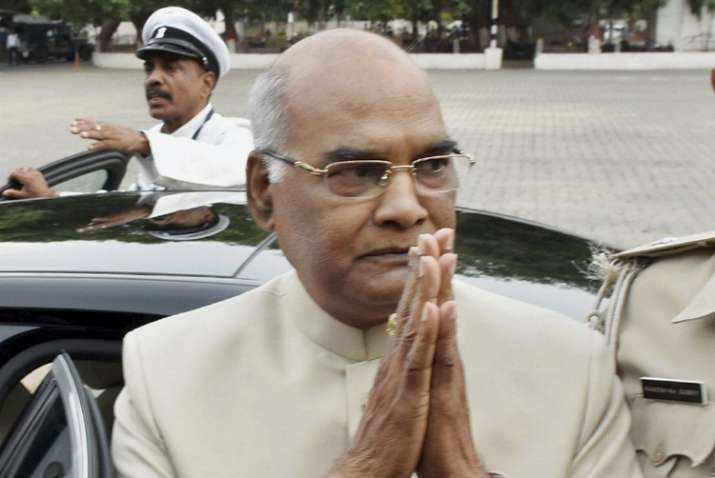 Stumped by the NDA putting forward Ram Nath Kovind, a Dalit, as its presidential nominee and the growing support that his candidature continues to find, a united opposition is in plans to counter it with a candidate from the same caste as Kovind.  
Sources say a united Opposition could project either former Lok Sabha speaker Meira Kumar or former Home Minister Sushil Kumar Shinde – both Dalit leaders from Congress -- as their joint nominee for the July 17 polls. 
Kumar, the daughter of former Deputy Prime Minister and prominent Dalit leader Babu Jagjivan Ram, served as Lok Sabha Speaker during the former UPA-II regime. Shinde, on the other hand, served as the Home Minister. Besides these two, Bharipa Bahujan Mahasangh leader and grandson of Dr B R Ambedkar, Prakash Yashwant, and retired diplomat Gopal Krishna Gandhi are other names the opposition parties are considering. 
Opposition parties will meet on June 22 to decide on fielding a consensus candidate for the presidential election, with many in the ranks sceptical about supporting Kovind, owing to his RSS background. 
At least two major opposition parties that deliberated upon putting up a joint candidate, JD(U) and BSP, have shown "positive" response to Kovind's nomination. JD(U) supremo and Bihar Chief Minister Nitish Kumar yesterady expressed happiness over state Governor Kovind's candidature, but stopped short of committing support to the NDA nominee. 
BSP boss Mayawati said her party was positive about Kovind but wished the ruling alliance had named a non-political Dalit candidate for the top post. Meira Kumar's name may ensure support of both JD(U) and BSP as she is Dalit leader from Bihar. 
But Shinde's nomination may help get Shiv Sena, which is yet to declare its support for Kovind, onboard as the former Union Home Minister belongs to Maharashtra. Shinde, however, dismissed the reports that his name is being considered for the top post. "I don't see any scope in this. This is impossible… no question of this," he was quoted as saying by a media report.
It is highly unlikely that any Opposition candidate would be able to gather enough support to defeat Kovind as BJP is only a little shy of reaching the 50 per cent of total electoral college. 
Non-NDA parties like BJD, TRS and YSRCP have announced their support to the Dalit leader. 
Kovind, currently serving as Bihar Governor, has said that he will meet leaders of major political parties and seek their support to emerge as a 'consensus candidate' for the coveted post. "All those who are members of the electoral college...I will meet leaders of major political parties and seek their support...I hope that every citizen will support me," he said. 
Kovind is likely to file his nomination on June 23. If elected, which appears to be a certainty, the 71-year-old former lawyer would be only the second Dalit to occupy the Rashtrapati Bhavan after K R Narayanan.