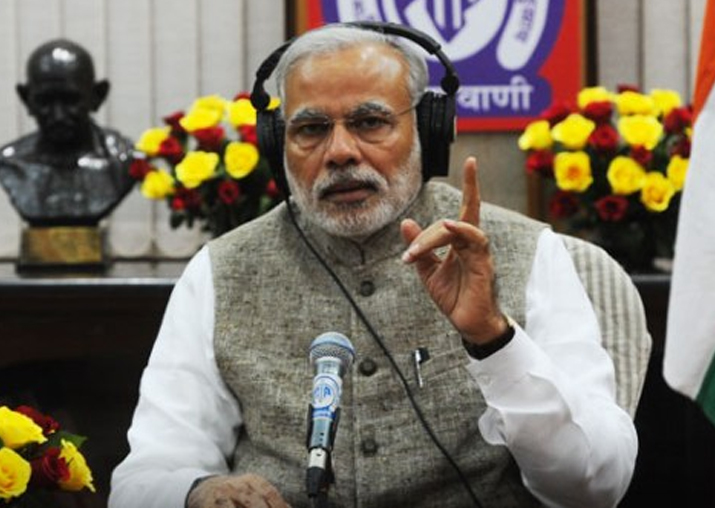 Prime Minister Narendra Modi today said India has always vouched for world peace, unity and harmony and its armed forces have contributed in this direction through UN missions across the globe. He said that currently around 7,000 Indian security personnel are deployed on peacekeeping missions, making it the third highest contributor.
Besides, Indian forces have provided peacekeeping training to their counterparts from 85 countries and have been providing medical services to people from a number of countries, Modi said in his monthly radio programme 'Mann Ki Baat'.
"India, as a messenger of peace, has always vouched for peace, unity and harmony in the world. It is our belief that everyone should live in peace and harmony and move towards a better and peaceful tomorrow," the Prime Minister said.
He said India has participated in about 50 out of 71 UN peacekeeping operations undertaken so far.
#DidYouKnow : India was the FIRST country to send a FEMALE police unit to Liberia for the UN Peace Mission #MannKiBaat pic.twitter.com/lqXvvjWu5p

— ALL INDIA RADIO (@AkashvaniAIR) October 29, 2017
'Diwali with soldiers an unforgettable experience'
The Prime Minister also said spending Diwali with soldiers was an "unforgettable" experience for him, saying people should listen to their "tales of valour".
"Memories of Diwali celebrations with our security forces will remain cherished in my heart. I salute every soldier who guards the borders with utmost dedication and a spirit of sacrifice, braving all odds. Whenever we get a chance, we must try to know the experiences of our soldiers and listen to their tales of valour," he said.
Modi had celebrated Diwali with the soldiers in Jammu and Kashmir's Gurez sector.
In his radio broadcast, he also talked about India's culture of respecting nature, highlighted the increase in Khadi sales, referred to cleanliness campaign and mentioned the role played by Sardar Vallabhai Patel in laying the foundation of the country's unity.
Modi also expressed concern over the fact that even children are nowadays getting afflicted by diabetes and exhorted the young ones to play more outdoors to evade such ailments.
"Diseases that would earlier occur in old age only are now catching up with children. I get shocked to learn that children are also getting diabetic. The main reason for such diseases at such a young age is less physical activities and change in our eating habits," he said.
Yoga for Young India!
Yoga will help our children from lifestyle disorders.#MannKiBaat pic.twitter.com/gGMTUg5jfl

— PMO India (@PMOIndia) October 29, 2017
The programme also included a phone call from a listener Partha Shah who mentioned about the World Diabetes Day to be observed on November 14, which is also celebrated in India as "Children's Day" marking the country's first Prime Minister Jawaharlal Nehru's birthday.
The listener, who was a doctor by profession, asked Modi what should be done to fight the challenge of diabetes among children.
In his reply, Modi urged families to make sure that their children remain physically active, their indoor activities are limited and they indulge in outdoor activities.
"Families should make their children play out in the open. If possible, elders should also go out with their children to play in the open. Instead of using elevators, children should be asked to use staircases. After having dinner, families should make an effort to go for a walk with their children."
Modi said the 'Yoga for Young India' programme could be helpful for young to maintain a healthy lifestyle and fight lifestyle diseases.
"Yoga is easy to do, simple and convenient. People of any age can do it easily and anywhere," the Prime Minister said.
According to an Indian Journal of Endocrinology and Metabolism study published in 2015, India was home to an estimated 97,700 children suffering from type 1 diabetes mellitus.
PM Modi also referred to the just-concluded FIFA U-17 tournament in India and expressed happiness over the host team's performance, saying it had won hearts, if not medals.
Sardar Patel's contribution in uniting our Nation is invaluable.#MannKiBaat pic.twitter.com/hpwVKCvSZ6

— PMO India (@PMOIndia) October 29, 2017