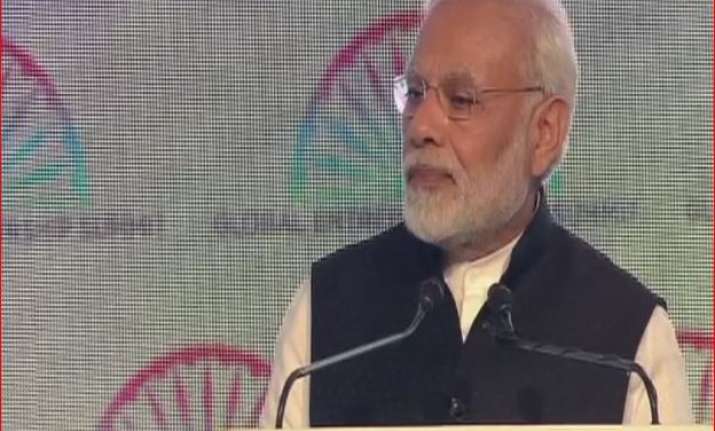 US President Donald Trump's adviser and daughter Ivanka Trump arrived in India on Monday night to attend the three-day Global Entrepreneurship Summit.
PM Narendra Modi, who had personally invited Ivanka to participate in the Global Entrepreneurship Summit, will inaugurate the summit on Tuesday evening at Hyderabad International Convention Centre (HICC). More than 1200 young entrepreneurs, a majority of whom are women, from 127 countries are expected to attend the summit.
Meanwhile, security has been beefed up in Hyderabad ahead of the summit. "About 2,500 security personnel have been deployed in three cordons. While everything is in place," said Commissioner of Police Sandeep Sandilya.
Ivanka Trump, PM Modi at GES Summit in Hyderabad: As it happened
06:07 pm: I would like to thank Ivanka Trump, co-host of this summit. She represents energy & spirit of an entrepreneur that characterizes the youth of today. I am sure her presence will inspire women entrepreneurs from India & across the world: Sushma
06:05 pm: I am 'chinamma' of Telangana, that's why I can say that it is a perfect mix of traditionalism and modernisation:Sushma Swaraj
06:03 pm: I have no doubt that under the leadership of PM Modi and President Trump India and US relations will reach new heights & contribute to global peace & prosperity: Sushma Swaraj
06:01 pm: To my entrepreneur friends across the world, I would like to say come make in India, invest in India, for India and for the world.: PM Modi 
05:59 pm: A historic overhaul of the taxation system has been recently undertaken, bringing in the GST across the country: PM Modi 
05:57 pm: Three out of four oldest High Courts in India are now headed by women judges. Our sportswomen have done the country proud. This very city of Hyderabad is home to Saina nehwal, PV Sindhu, & Sania Mirza, who have brought laurels to India: PM Modi 
05:55 pm: My govt has launched the Atal Innovation Mission. We are opening Tinkering Labs in more than 900 schools to promote a culture of innovation and entrepreneurship among children:PM Modi
05:50 pm: We have made Aadhaar world's largest digital database: PM Modi 
05:45 pm: Our govt has taken several step to improve business environment. The jump in ease of doing business is a result of this initiative: PM Modi
05:43 pm: Our many ports, harbors and world's oldest dockyard in Lothal bear evidences of ancient trade linkages: PM Modi
05:41 pm: The summit is being held for the first time in South Asia. It brings together, leading investors, entrepreneurs, academicians, think tanks and other stake holders to propel the global entrepreneurship ecosystem.: PM Modi 
05:40 pm: PM Modi behins his speech
05:23 pm: I am proud to see that for the first time a majority of 1500 women entrepreneurs are participating in such an event: iVanka Trump
05:19 pm: It's incredible to be in this ancient city brimming with technology: Ivanka
05:18 pm: The people of India, I want to congratulate you as you celebrate the 70th anniversary of Independence: Ivanka
05:17 pm: What you are achieving here is truly extraordinary. From your childhood selling tea to your election as India's Prime Minister, you've proven that transformational change is possible: Ivanka
: Ivanka Trump to PM Modi
05:12 pm: 
Prime Minister Narendra Modi and #IvankaTrump inaugurated #GlobalEntrepreneurshipSummit in Hyderabad. pic.twitter.com/sUNZ42kzJT

— ANI (@ANI) November 28, 2017
05:11 pm: Telangana is proud to host one of the most prestigious global events. I am sure you will experience the "Hyderabadi character" during your stay here: Telangana CM K C Rao at GES 2017
04:59 pm: 
Cultural events underway at the #GlobalEntrepreneurshipSummit in Hyderabad. pic.twitter.com/oCXR37cgNP

— ANI (@ANI) November 28, 2017
04:54 pm: Hyderabad all geared up to host over 5000 of the world's best entrepreneurs and investors at the Global Entrepreneurship Summit
04:25 pm: 
PM Modi, #IvankaTrump and Telangana CM KC Rao at the #GlobalEntrepreneurshipSummit in Hyderabad pic.twitter.com/6HomgABipq

— ANI (@ANI) November 28, 2017
03:47 pm: 
Hyderabad: EAM Sushma Swaraj met Ivanka Trump, Advisor to the US President and Leader of the US delegation at #GlobalEntrepreneurshipSummit; MEA says they had a productive discussion on women entrepreneurship and empowerment. pic.twitter.com/dVkpZflWmH

— ANI (@ANI) November 28, 2017
03:42 pm: 
Hyderabad: #IvankaTrump meets PM Narendra Modi on the sidelines of the #GlobalEntrepreneurshipSummit pic.twitter.com/qkbQDma6LU

— ANI (@ANI) November 28, 2017
Ivanka Trump, who is leading a delegation of senior Trump administration officials and entrepreneurs, will make remarks at summit's opening session themed 'Be the change: women's entrepreneurial leadership'.
Ivanka, 36, is also scheduled to speak at the panel session on opening up opportunities for women entrepreneurs in their countries and communities. She has travelled to India before, but this is her maiden trip to the country as a senior presidential adviser. Accompanied by several top administrations official, a large number of Indian Americans are part of her delegation, which numbers 350 from 38 states.
After attending Global Entrepreneurship Summit inaugural session, PM Modi, Ivanka and other delegates will reach Taj Falaknuma, a palace hotel in the old city, to attend the dinner hosted by the Indian Government.
Google's Vice President of Next Billion Users Diana Louise Patricia Layfield, tennis champion Sania Mirza, and CEO of Afghan Citadel Software Company Roya Mahboob are among the leading women speakers at the summit.
The US delegation will also include Mark Green, Administrator, US Agency for International Development, Ray Washburne, CEO, Overseas Private Investment Corporation, Jovita Carranza, Treasurer of the United States, Neomi Rao, Administrator, Office of Information and Regulatory Affairs and Patricia Green, Director of the Women's Bureau, Department of Labor.
Global Entrepreneurship Summit, which is being held for the first time in South Asia, will focus on the theme "Women First, Prosperity for All". The event brings together 1,500 entrepreneurs, investors, and supporters of entrepreneurship from more than 150 countries and territories across the world.
The world's largest gathering of young entrepreneurs is being co-hosted by India and the United States.
WATCH VIDEO ! Ivanka Trump arrives in Hyderabad for the GES 2017