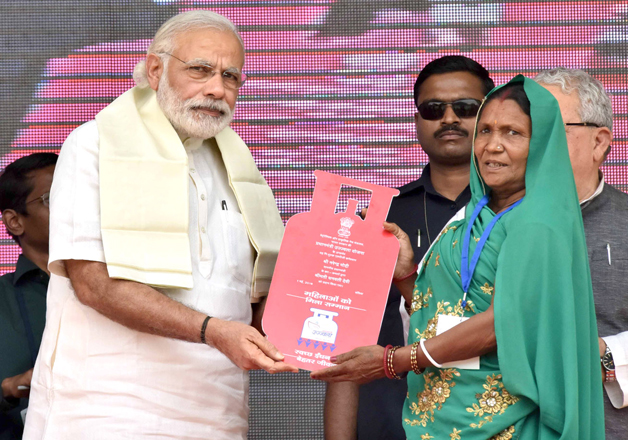 Prime Minister Narendra Modi today said that about 50 lakh free cooking gas (LPG) connections have been provided to poor households in the last 100 days and the target of 5 crore is expected to be achieved well before the 3-year schedule.
Delivering his third Independence Day speech from the ramparts of the Red Fort, he said the government's focus on providing cleaner, efficient and cheaper cooking fuel to households has led to issuing of an unprecedented number of LPG connections ever since the BJP-led government came to power in May 2014.
"About 14 crore people got LPG connections in 60 years. And we have given 4 crore new LPG connections in 60 weeks," he said.
For the below poverty line (BPL) households, particularly in the rural areas, the government on May 1 launched a Rs 8,000-crore scheme to provide 5-crore free LPG connections in name of women members of poor households in three years.
"Nearly 50 lakh LPG connections have been provided under the Pradhan Mantri Ujjwala Yojana in past 100 days. At this pace, we can complete the target of 5 crore connections before the scheduled three years," he said.
Under the scheme, the government pays oil companies Rs 1,600 for each LPG connection they provide to BPL households. This is to cover for the cost of a new connection and LPG cylinder. The country currently has 16.64 crore active LPG consumers.
Modi said the use of LPG will help reduce serious health hazards associated with cooking based on unclean fuels.
According to WHO estimates, about 5 lakh deaths occur in India alone due to unclean cooking fuels. Experts say having an open fire in the kitchen is like burning 400 cigarettes an hour.
Providing LPG connections to BPL households will ensure universal coverage of cooking gas in the country and this will empower women and protect their health, he said.
Finance Minister Arun Jaitley had in his Budget for 2016-17 provided Rs 2,000 crore to provide deposit free LPG connections to 1.5 crore women belonging to BPL families.
Further, the Budget announced that the scheme will be continued for two more years to cover 5 crore households.