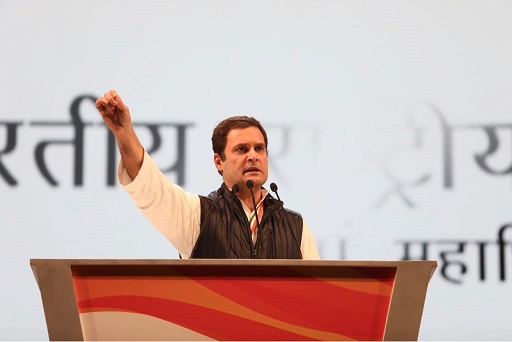 The second day of the Congress plenary session saw its major highlight in President Rahul Gandhi's power packed address to the party workers on Sunday. 
During his speech, Rahul equated the BJP and RSS with the "Kauravas" of the Hindu epic Mahabarata, saying they were designed to "fight for power".
Gandhi also said that people will accept that Bharatiya Janata Party (BJP) is drunk with power "because they know what it is designed for".
Taking a potshot at BJP President Amit Shah without taking his name, he said, "They (the BJP) will accept a person with the murder charge as their party President."
"But in Congress... they know that its an organisation of truth," he said.
"India accepts the truth," the Congress President added.
Earlier in the day, former Union minister Anand Sharma too addressed the session and accused Modi government of derailing India's foreign policy. 
"Modi government has disrupted India's foreign policy. In the last four years, they have made this a divisive policy. They have pursued this in a cavalier manner, non-serious manner," Anand Sharma said at the party's 84th plenary on Sunday. 
"The prime minister is carried away by his own propaganda. Today it is a matter of concern that we have mismanaged our relations with major capitals of the world, with major strategic partners and our immediate neighbourhood," Sharma added.
Today is the second and last day of the Congress plenary. 
Day 2 of Congress Plenary Session: As it happened 
4:52 pm: We paid 570 cr per plane & Modi paid 1670 cr for the same plane. He paid 1100 cr more per plane. Forget fighter planes you can't trust such a man to buy vegetables. Modi is not fighting corruption Modi is corruption: Rahul Gandhi
4:50 pm: Modi personally changed Rafale deal & bought 36 aircraft for the same price that we the Congress negotiated for 126, says Rahul Gandhi
4:47 pm: This is a fight of ideology. One after the other BJP is losing elections. You must have noticed the change of emotions on Modi ji's face, says Rahul Gandhi
4:46 pm: The press does write critical of Congress and even wrong at times. But when RSS will suppress you, we will protect you: Rahul Gandhi
4:45 pm: BJP just knows one institution and that is RSS. They want everyone to come under this institution, says Rahul Gandhi
4:42 pm: For the first time we saw that four Supreme court judges came running to the people for justice, says Rahul Gandhi
4:40 pm: BJP has spread an atmosphere of fear, even the media is facing this: Rahul Gandhi
4:38 pm: Congress will try and give education similar to that given in IIT, IIMs: Rahul Gandhi
4:35 pm: We have to change Congress. There is a wall between our leaders and workers. My first task will be to break that wall. I will consult senior leaders to destroy that wall with love: Rahul Gandhi
4:32 pm: They told Gauri Lankesh and Kalburgi, question us and you will die. They tell our honest businessman to shut up and allow corrupt officers to extort their hard earned money. They tell our farmers to work for nothing:  Congress President
4:27 pm: They (people) will accept a man accused of murder as the President of the BJP, but they will never ever accept the same in the Congress Party because they hold Congress in the highest regard: Congress President Rahul Gandhi 
4:25 pm: A temple priest had said that I will become PM, says Rahul Gandhi
4:21 pm: What does Modi actually mean? The name Modi symbolises the collusion between India's biggest crony capitalists and the prime minister of India: Congress President Rahul Gandhi
4:19 pm: They tell Muslims of India who never went to Pakistan&supported this great nation that you don't belong here. They tell the Tamils change your beautiful language, they tell people of north-east we don't like what you eat, tell women dress properly: Congress President Rahul Gandhi
4:17 pm: The PM diverts our attention and jumps from one event to another from Gabbar Singh tax to yoga in Parliament but never talks about the issues. But, the Congress cannot be stopped from seeking the truth and justice: Rahul Gandhi
4:15 pm: Rahul Gandhi attacks PM Modi, says 'no one can silence us for seeking justice for the people of India'
4:10 pm: I don't say it with happiness but the last govt we formed did not stand up to the expectations of the people. The people of the country were let down by us: Congress President Rahul Gandhi
4:07 pm: Will India live a lie or will India have the courage to face the truth? Today, the corrupt and powerful control the conversation in the country: Congress President Rahul Gandhi 
4:05 pm: Centuries ago there was huge battle on the field of Kurukshetra. The Kauravas were powerful&arrogant. The Pandavas were humble & fought for the truth. Like the Kauravas BJP & RSS are designed to fight for power, like the Pandavas,Congress is designed to fight for truth: Rahul Gandhi
4:02 pm: The BJP is the voice of an organisation & the Congress is the voice of a nation: Rahul Gandhi
4:00 pm: Rahul Gandhi begins addressing the Congress plenary session.
12:43 pm: 
It's the biggest achievement of Dr Manmohan Singh that 14 Cr people were listed out of poverty. BJP govt pushed people into poverty. Number of people below poverty line went up. It's the greatest disservice BJP govt did to people of India: P Chidambaram at #CongressPlenarySession pic.twitter.com/gDtkIU1Rci

— ANI (@ANI) March 18, 2018
12:40 pm: We promise there will be no tax terrorism, no midnight knocks on the door starting next year, P Chidambaram assures business community, if Congress is elected in 2019 Lok Sabha polls
12:37 pm: Demonetsisation, GST pushed people towards poverty: P Chidambaram
12:35 pm: In last 4 years BJP destroyed jobs through demonetisation and flawed GST, says P Chidambaram
12:21 pm: I would like to tell the RBI officials why don't you go to Hundi collectors in Tirupati? They count money faster than you - P Chidambaram on demonetisation 
12:21 pm: Demonetisation was a big lie. RBI is still counting and won't tell us how much money has come back. I would like to advice the RBI Governor to go to Tirupati & get the hundi collectors. They count money faster than the RBI: Former FM
12:21 pm: Demonetisation was the biggest lie, new Rs 2000 note was found on infiltrators and those caught taking bribe even before common people had seen it for the first time: P Chidambaram
12:20 pm: The current phase of economic growth started in 1990s when Rajiv Gandhi sowed seeds of liberalisation. This gained momentum under Dr Manmohan Singh. Whatever the BJP, the NDA may say, records speak for itself: P Chidambaram
12:15 pm: The Congress plenary on Sunday authorised party President Rahul Gandhi to constitute the Congress Working Committee (CWC). The proposal was adopted with a consensus by raising of hands. Taking the proposal, party leader Ghulam Nabi Azad said that in the history of Congress, election to the CWC had been held only about a dozen times. 
12:05 pm: UPA govt could achieve a lot because of Sonia Gandhi's guidance: Former PM Manmohan Singh at Cong plenary session
12:05 pm: Modi govt has mismanaged Jammu and Kashmir like never before, the atmosphere is deteriorating day in and day out, its obvious from the fact that our borders are insecure, be it cross-border terror or internal: Manmohan Singh
12:00 pm: The Congress party made India what it is today. It led the freedom struggle and guided India towards development after Independence. Today, we face similar challenges of carrying forward development and social justice: Former PM Dr. Manmohan Singh
11:59 am: Promise of 2 crore jobs per annum is yet another tall promise by Modiji; Manmohan Singh
11:58 am: Modiji himself says that he will double farmers' income in six years, which requires a growth rate of 12 per cent per annuam and that is unthinkable, therefore it is one of those statements which can be called jumlas: Manmohan Singh
11:58 am: The Modi govt. has mismanaged issues in J&K like never before. They have installed a Govt where the two wings of the administration are working against each other. The atmosphere is deteriorating everyday: Former PM Dr. Manmohan Singh
11:58 am: The support Pakistan gives to cross-border terrorism is certainly not acceptable to us. We should warn Pakistan that their actions are detrimental to peace and prosperity: Former PM Dr. Manmohan Singh
11:57 am: The defense expenditure of our country is no more than 1.6% of our GDP. This is far too inadequate to meet the challenges of our security apparatus and our needs: Former PM Dr. Manmohan Singh
11:56 am: The BJP Govt. made tall promises. PM Modi himself said that his Govt will double farmers' income. For that, a growth rate of 12% p.a. is necessary which is unthinkable in the current scenario: Former PM Dr. Manmohan Singh 
11:55 am: India stands at the crossroads. We have opportunities, but we also have challenges. The Congress party will provide a new pathway to chalk out the future of our country: Former PM Dr Manmohan Singh
11:15 am: 
Delegates from Andhra Pradesh greet Smt. Sonia Gandhi, Dr. Manmohan Singh and Congress President Rahul Gandhi on the occassion of Ugadi. #CongressPlenary #ChangeIsNow pic.twitter.com/H9LxAWpG3F

— Congress (@INCIndia) March 18, 2018
10:59 am: "Neighbourhood first" was the Congress Govt's rallying cry. However, under the Modi Govt, it's "Neighbourhood last". We need to improve our regional connectivity, but that is being ignored today: Gaurav Gogoi
10:53 am: The Congress-led UPA Govt, in its 10 years in office, pursued a robust foreign policy that enhanced India's standing in the world: Anand Sharma
Second day of the 2-day #CongressPlenarySession begins in #Delhi. pic.twitter.com/vtcwA1uO1t

— ANI (@ANI) March 18, 2018
Also read | Congress plenary: BJP slams Sonia, Rahul speeches as 'stale rhetoric'
Yesterday, the plenary saw party leaders making strident attacks on the Modi government on a range of issues including corruption, problems of farmers and unemployment with UPA Chairperson Sonia Gandhi terming the ruling alliance as "arrogant", "power-drunk", "dictatorial" and only working to finish the Congress in the nearly four years of its rule. 
Sonia Gandhi sought to enthuse party rank and file for the challenging battles ahead, including the Karnataka assembly elections later this year, saying Congress' victory was the country's victory. 
In an indication of how the party plans to defeat to BJP-led coalition in the 2019, she recalled the flexibility shown by the party in favour of alliances ahead of 2004 Lok Sabha polls to hand out an unexpected thrashing to the then NDA government. 
She accused Modi of indulging in "dramabaazi" (gimmicks)" to earn votes.
Rahul Gandhi set the tone of the plenary with his brief but succinct speech, saying that the meeting was aimed at setting the future direction not only of the Congress but of the entire country.
Also read | Congress ready to ally with 'all like-minded parties' to defeat BJP in 2019 Lok Sabha elections
Seeking to tap into the perceived rural distress and growing need of jobs for youth, he said various sections were feeling disenchanted under the BJP.
"The crores of youth, who are feeling tired today, when they look towards Modi, they are unable to see a way forward. They do not know from where will they get employment, when will farmers get proper price for their crops. The country is in a way tired, is seeking a way out.
"And I say from my heart that only the Congress can show the path to the country," Gandhi said to loud cheers.
"The aim of plenary is to show the path forward to the Congress and the country. It is talking of the future, it is talking of change," he said. 
The plenary, being held after eight years, had the stamp of Rahul Gandhi with several party workers and young leaders speaking on resolutions. Unlike past plenaries, the leaders did not sit on the dais. There were panel discussions on several themes. 
(With inputs from agencies)