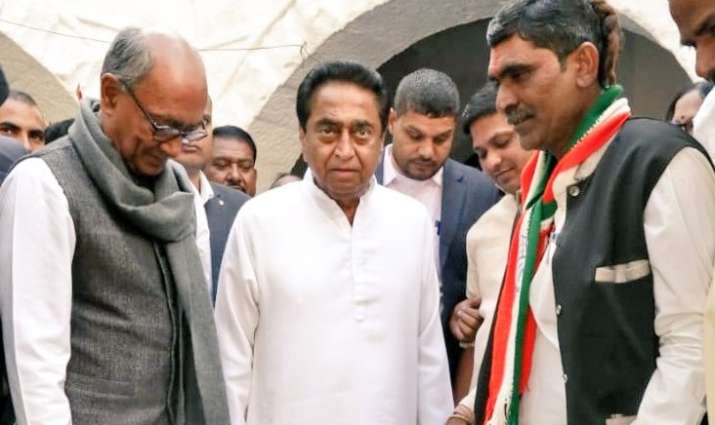 A Congress worker, who had pledged to remain barefoot till his party came back to power in Madhya Pradesh finally has a pair of shoes in his feet and it was put there by none other than Chief Minister Kamal Nath. 
Sharing the news on social media, the chief minister said that he was happy to put the shoes in the party worker's feet, who had vowed to remain barefoot for the party's success. 
Today I met party worker Sh Durga Lal Kirar at my residence and put shoes in his week. he had pledged that he will not wear shoes till there is a Congress government in Madhya Pradesh. Salute to such Congress workers, who work hard for party day and night, MP CM wrote on his Twitter on Wednesday. 
आज निवास पर राजगढ़ के कार्यकर्ता श्री दुर्गा लाल किरार से मिलकर उन्हें जूते पहनाएं,
उन्होंने संकल्प लिया था कि जब तक प्रदेश में कांग्रेस की सरकार नही बनेगी तब तक जूता नहीं पहनेंगे ।
ऐसे कार्यकर्ताओं को सलाम है जो पूरी निष्ठा से कांग्रेस के लिए दिन रात मेहनत करते है । pic.twitter.com/qTOD1FAZ8u

— Office Of Kamal Nath (@OfficeOfKNath) December 26, 2018
Congress party has returned to power in Madhya Pradesh after 15 years. In past 15 years, Bharatiya Janata Party ruled the state. For the last 13 years, the state was led by Shivraj Singh Chouhan, while before him the party had given the post to Uma Bharti and Babulal Gaur. In the recently concluded assembly elections, Congress and BJP saw a neck-to-neck fight. In an assembly of 230 members, Congress won 114, while BJP scored 109. But Congress managed t make the government with the support of four independent, two BSP and one SP member.