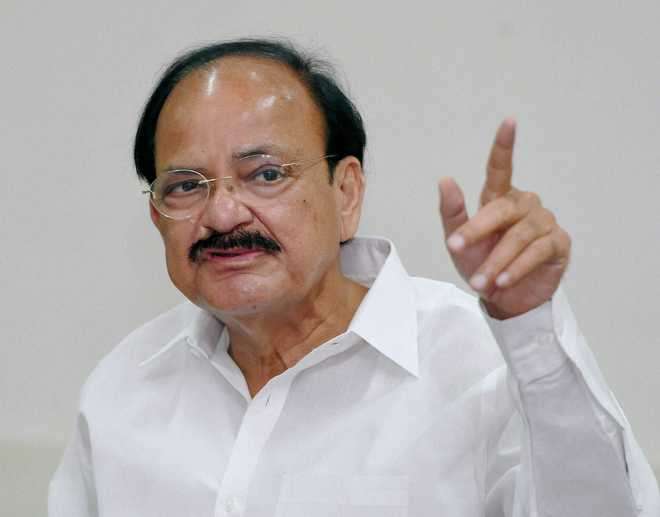 Rahul Gandhi's comments on the Prime Minister have come in for some sharp criticism from the Bharatiya Janata Party, with Union minister Venkaiah Naidu terming the Congress vice president's remarks as "cheap" and out of sheer frustration.
Referring to Rahul's comments when he said that the Prime Minister needs rest, Naidu said the remarks were made out of fear and frustration of losing the ongoing Assembly polls.
Taking a dig at Gandhi, he said the comments were coming from a person who himself does not have the patience to come to Parliament and attend important debates and who "disappears suddenly" from the country by going abroad.
"Rahul might be speaking from his own experience of going out of the country and suddenly disappearing from the political scene...not coming to Parliament to attend even the important debates. They are saying that the Prime Minister is tired.
"The Congress party is tired and the people want to retire it. That is what is happening. In order to cover up their frustrations, they are making such cheap comments," Naidu told reporters here.
He was reacting to Gandhi's reported comment at a rally in Uttar Pradesh in which he had said that Narendra Modi was tired and Chief Minister Akhilesh Yadav can lighten the PM's burden and give him some rest by becoming the CM again.
Then, Rahul said, in 2019, they would take all the PM's load in next Lok Sabha elections and send him out of power.
Countering the Congress Vice President's suggestions to Akhilesh, Naidu said Prime Minister Narendra Modi was working "day-in and day-out" and covered more than 40 countries in a short span of time.
"Internationally, he has mobilised the support for Indians. Within the country, there is no state, which he has not visited. There is no issue on which the prime minister is not focusing," the Minister said.
Naidu also dubbed as "atrocious and obnoxious" former Home Minister P Chidambaram's comment that Kashmir was nearly lost.
Last week, the senior Congress leader had said that he had a sinking feeling that Kashmir was nearly lost for India because the central government used brute force to quell the dissent there.
He had said that seven million persons of Kashmir valley felt alienated by the oppressive methods of the government.
"People are really agitated on it. Kashmiri people are working together. Muslims have come forward to help the Kashmiri Pandits to celebrate Shivaratri festival. They had cleaned the temple," Naidu countered.
He also charged the Congress party with "forming alliance of casteist, communal and separatists forces" and expressing solidarity with such people.
(With PTI inputs)