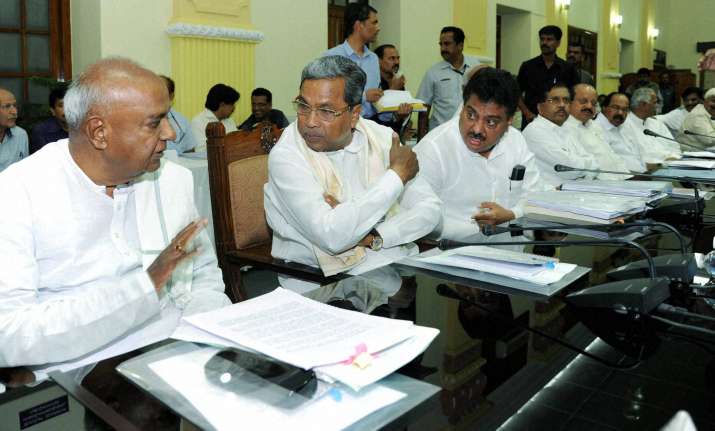 Despite an order by Supreme Court asking Karnataka to release 6000 cusecs of water from Cauvery everyday till September 27, the state cabinet today decided to defer the release of water to Tamil Nadu.
The decision was announced by Chief Minister Siddaramaiah after a late night cabinet meeting. 
The Cabinet has also decided to call a special session of state legislature session on Sept 23 to take a decision on release of the Cauvery water, Siddaramiah told reporters after the meeting. 
The SC order sparked a fresh wave of protest in Karnataka today with the Pro-Kannada outfits and farmers holding agitations n different parts of the state.
Yesterday, Siddaramaiah termed the Supreme Court order as "unimplementable". 
"....The Supreme Court has passed an order, since we do not have water, it is very difficult to implement it. It is an unimplementable order," he told reporters here.
The CM said that Karnataka had placed certain facts based on ground reality before the Cauvery Supervisory Committee but it still passed an order directing the state to release 3,000 cusecs per day between September 21 and 30.
Karnataka will have to release 6,000 cusecs of Cauvery water per day to Tamil Nadu from Wednesday, till September 27, the Supreme Court said on Tuesday, while raising the quantum fixed by the Supervisory Committee on Monday, by 3000 cusecs.
A bench of Justices Dipak Misra and U U Lalit has also directed the Centre to constitute within four weeks the Cauvery Water Management Board (CWMB) as directed by the Cauvery Water Disputes Tribunal (CWDT) in its award.
The panel's order to release 3,000 cusecs of water daily to Tamil Nadu comes into force after the state completes releasing 12,000 cusecs daily on Tuesday as per the apex court's September 12 order, which is a modification of its September 5 directive to release 15,000 cusecs daily for 10 days from September 7.