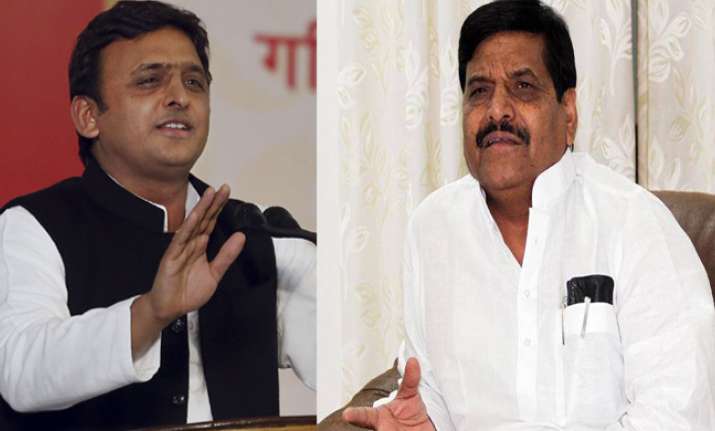 The ongoing political crisis in Uttar Pradesh intensified on Thursday when senior Samajwadi Party leader and state minister Shivpal Singh Yadav resigned from Uttar Pradesh cabinet led by Chief Minister Akhilesh Yadav and also from all party posts.
However, CM Akhilesh Yadav has refused to accept the resignation.
SP supremo Mulayam Singh Yadav had rushed here today from Delhi this evening and launched efforts to douse the flames by meeting his son and Chief Minister Akhilesh Yadav as well as brother Shivpal.
As soon as he reached here, Mulayam summoned Shivpal, who is at loggerheads with Akhilesh, and held closed door meeting with him to defuse the situation.
Shivpal later met Akhilesh at his official residence, sources said, adding the meeting came at the behest of Mulayam.
Immediately thereafter, the SP chief met Akhilesh, the sources said.
Earlier today, Mulayam had hinted that Shivpal may leave Akhilesh Cabinet when he told India TV that his brother will remain in the party and not join Akhilesh's Cabinet again.
The Mulayam family has been dogged by serious differences but matters reached a flash point on Tuesday after Chief Minister shunted out Chief Secretary Deepak Singhal, considered as his uncle Shivpal Yadav's favourite.  
In a tit-for-tat action, Mulayam took away the post of UP Samajwadi Party chief from his son Akhilesh, perhaps to smooth the ruffled feathers of Shivpal. 
But, within hours a peeved chief minister hit back by clipping his uncle's wings by divesting him of his key PWD, Irrigation and Cooperative portfolios.
Today, in a media conference at his residence in Lucknow, Shivpal had asserted that the party is not in any kind of trouble and added that he will not challenge Akhilesh Yadav's decision to strip him of all key portfolios in the state cabinet as it is his prerogative. 
(With agencies inputs)