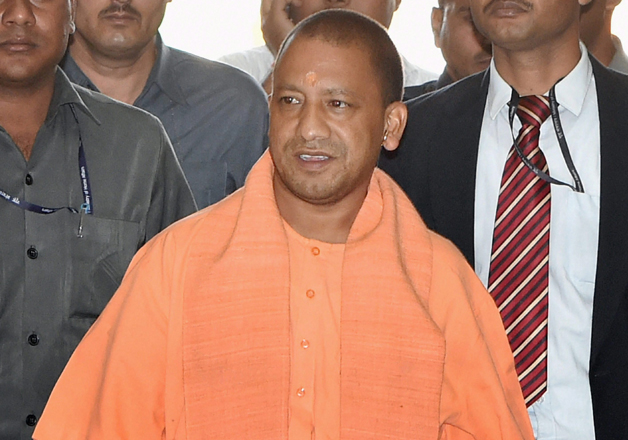 In a message that the police and administrative machinery need to be on their toes all the time, newly appointed Uttar Pradesh Chief Minister Yogi Adityanath today visited a prominent police station in Lucknow and inspected the state of affairs there.
The new UP CM has been pretty busy ever since he took office. In the four days that he has been CM of India's most populous state, he has ordered a crackdown on illegal slaughter houses, formed 'anti-Romeo' squads to check incidents of eve-teasing and crimes against women and pushed for better hygiene in government offices and buildings. The developments are part of the poll promises BJP had made in the run-up to the elections.
On his fifth day as UP CM, Ypgi Adityanath today decided to make an unannounced visit to the city's Hazratganj police station where he inspected the records and lock-ups in the premises. He checked the case diaries and also spoke to personnel present there. Soon after taking oath, the CM had met with top police officials and asked them to ensure there are no lapses in maintaining law and order. In his meeting with state DGP Javeed Ahmed, Yogi Adityanath had sought a blueprint from him for improving the law and order situation in the state in 15 days.
Today, in his visit to the Hazratganj police station, Yogi Adityanath visited rooms housing different departments inside the police station premises. He visited the record room, the Crime branch office, the Cyber Crime cell as well as the office of SP (East). Top police officials including the DGP, DIG and the IG were present alongside him. 
The visit by the new UP CM sends two clear messages. First, the upkeep of law and order is among the Yogi Adityanath government's topmost priorities. Second, the CM can visit any department anytime for inspection and that the entire governance machinery needs to be efficient at their jobs consistently. 
The past four days since 44-year-old Yogi Adityanath took oath as the UP CM have seen him continuously on the move. Contrary to the 'hardliner' image, the CM has been inspecting government offices and pushing the state machinery into action. Yesterday, his visit to the Secretariat Annexe building left him annoyed with the state of cleanliness and betel-stained walls. As a result, the CM ordered a ban on consumption of gutka and pan masala within government offices.