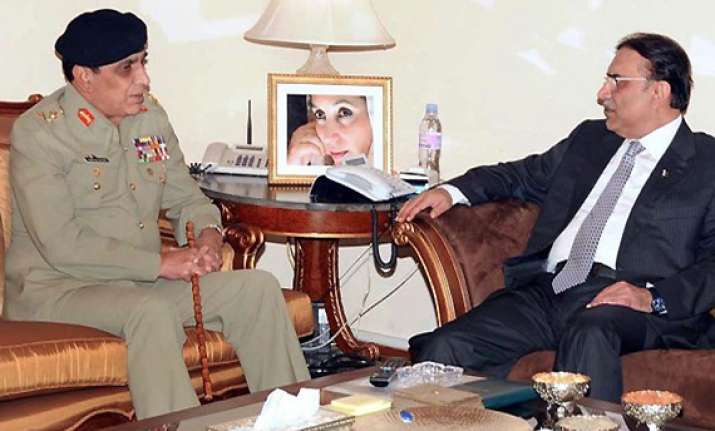 Islamabad, Jan 20: Pakistan President Asif Ali Zardari and Army chief Ashfaq Parvez Kayani met today, their second meeting since the memo scandal which sparked off a tense stand-off between the civilian and military leadership. 

The informal meeting between Zardari and Kayani at the presidency took place after the ceremony to award Nishan-e-Imtiaz to Admiral Asif Sandila, Geo TV reported. 

The president and army chief discussed the recommendations of the parliamentary committee which has been tasked to review the US-Pak relations following the November cross-border NATO attack that killed 24 Pakistani soldiers, the report said.

The meeting comes against the backdrop of a row over the alleged memo that had sought US help to stave off a feared military coup in Pakistan after the killing of Osama bin Laden in May last year.

They also discussed matters related to the country's economic situation, the report said.

The two had met on January 14, in a move seen as an attempt to resolve the tense stand-off between the government and the powerful military.

Last week's meeting, which lasted for about an hour, was the first between the two since the memo scandal triggered tense confrontation between the two sides.