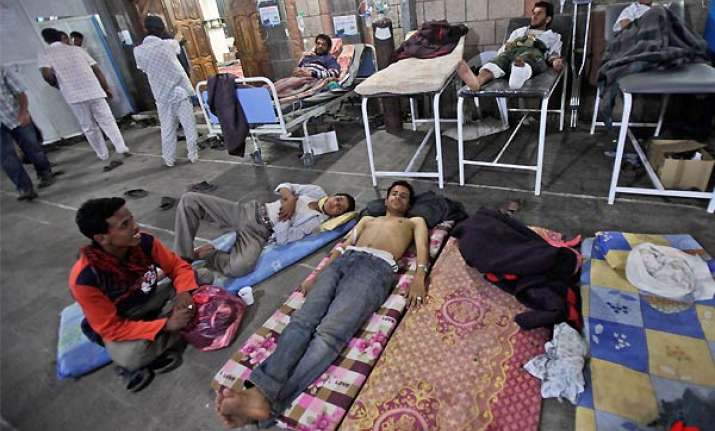 Sanaa, Apr 19 :
Three people were shot dead in Yemen today—one a passer-by—as security forces opened fire to disperse protesters calling for the ouster of embattled President Ali Abdullah Saleh.
The latest killings came as a Yemeni government delegation was in the UAE capital Abu Dhabi for talks with Gulf Cooperation Council (GCC) foreign ministers to discuss an exit plan proposed by the oil-rich bloc.
In the Yemeni capital Sanaa, medics said two protesters was shot dead and hundreds more were wounded, mostly by tear gas, when security forces dispersed an anti-Saleh march.
Earlier, police killed one man and wounded several other people when they shot at anti-regime demonstrators in the Wadi al-Qadi district of Taez, the second most-populated city of Yemen, south of Sanaa, according to witnesses.
"We have one dead, identified as Nasser Mohammed Gahtan, and five wounded by live fire, as well as hundreds of people suffering from tear gas inhalation," said a doctor in Sanaa treating the injured.
Protesters said a large force of riot police swooped on the marchers in Sittin Avenue in the west of the capital.
Gunmen in plain clothes were seen firing in the air and also at protesters.
Witnesses said the demonstrators still managed to break through the police cordon and reach an anti-regime sit-in at Sanaa university.
A pro-regime demonstration also took place in the capital on Tuesday, with Saleh backers chanting their support for the veteran strongman and for "constitutional legitimacy."
South of Sanaa, police fired "indiscriminately" on protesters in Taez, witnesses said.
Several people suffered gunshot wounds, including passer-by Talaat Abdullah Ghaleb who was fatally wounded after being shot while in his car, witnesses said. He died of his wounds in hospital about two hours later, a medic said.
Organisers of the Taez protest also said that four people, including a newspaper photographer, were arrested.
More than 125 people have been killed in the protests which broke out across the impoverished Arabian Peninsula state in late January.
GCC foreign ministers met on Sunday in Riyadh with a Yemeni opposition delegation seeking details on a plan for Saleh's departure, and the opposition remains adamant that he must go.
On April 10 the GCC—Bahrain, Kuwait, Oman, Qatar, Saudi Arabia and the United Arab Emirates—appealed to Saleh to "announce the transfer of his powers to the vice-president," Abdrabuh Mansur Hadi. (AFP)