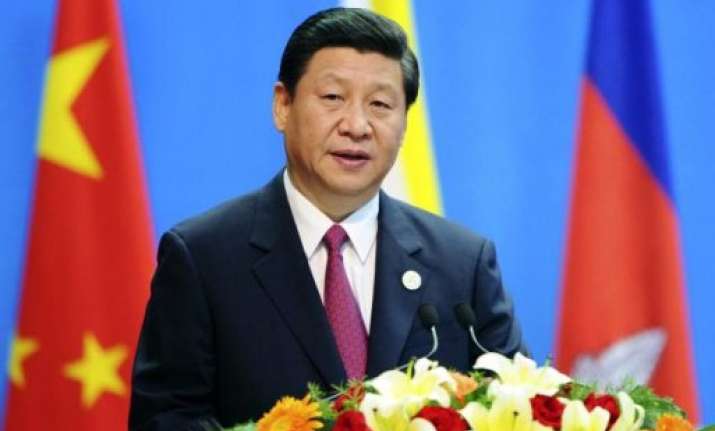 Beijing: Amid continued pro-democracy protests in Hong Kong as well as brewing resentment among party ranks over China's anti-graft campaign, the ruling CPC will hold a key meeting here tomorrow in which President Xi Jinping's handling of affairs may come up for scrutiny.
Over 370 members and alternate members of the Central Committee of the Communist Party of China (CPC), will attend the three-day meeting here from tomorrow to discuss a vast agenda, including broadening of economic reforms and firming up rule of law in the country.
China is governed by the seven-member Standing Committee of the CPC headed by Xi, who since he took over power last year has emerged as the most powerful leader of the country heading the party, the presidency and the military unlike his predecessor Hu Jintao who got to head the military only two years into power.
The plenary of the Central Committee held periodically is regarded as the biggest policy body of the party which has to endorse key policy formulations.
Though he built up the reputation of being the strongest leader in recent years, Xi's leadership is facing testing times on various fronts including the continued pro-democracy protests in Hong Kong, the slowing down economy which may miss official target of 7.5 GDP this year and the resentment in party ranks over the anti-corruption  ..
As the CPC elite meet tomorrow, students continued the protests in Hong Kong for open elections to the Chief Executive's post in 2017 demanding that China rescind the rule to vet the candidates to take part in the polls.
Such a move will drastically dent, China's hold on Hong Kong which it has preserved under the 'one country, two systems' formula.
After trying a variety of tactics to break the protests, the Hong Kong government headed by pro-Beijing Executive, Leung Chun-ying agreed to hold talks with the protesters from October 21.
As protests continued there were rumblings in the CPC about the way situation was allowed to develop this far.
Critics say the protests effectively demonstrated the growing resentment against China in Hong Kong.
Another important issue the CPC meeting would discuss is Xi's anti-corruption campaign in which over 70,000 officials have been prosecuted since last year including Zhou Yangkong, member of the powerful Standing Committee under Hu Jintao.