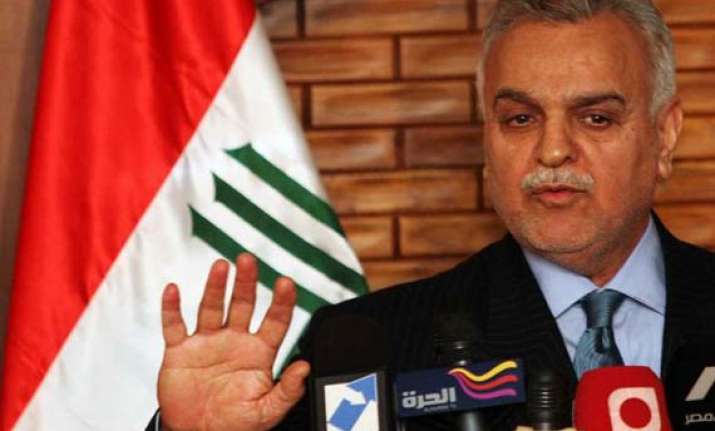 Baghdad, Dec 22: A wave of at least 14 bombings ripped across Baghdad today morning, killing at least 60 people in the worst violence Iraq has seen for months. 

The apparently coordinated attacks struck days after the last American forces left Iraq and in the midst of a major government crisis between the country's top Shiite and Sunni political leaders that has sent sectarian tensions soaring. 

The bombings may be linked more to the US withdrawal than the political crisis, but all together the developments heighten fears of a new round of sectarian bloodshed like the one a few years ago that pushed Iraq to the brink of civil war.

There was no immediate claim of responsibility. But the bombings bore all the hallmarks of an attack by the Sunni insurgents of al-Qaida. Most of the violence appeared to hit Shiite neighborhoods, although some Sunni areas were also targeted.

In all, 11 neighborhoods were hit by either car bombs, roadside blasts or sticky bombs attached to cars. At least one of the attacks was a suicide bombing and the blasts went off over several hours.

The worst blast was in the Karrada neighborhood, where a suicide bomber driving an explosives-laden vehicle blew himself up outside the office of a government agency fighting corruption.

Two police officers at the scene said the bomber was driving an ambulance and told guards that he needed to get to a nearby hospital.

After the guards let him through, he drove to the building where he blew himself up, the officers said. 

Sirens wailed as ambulances rushed to the scene and a large plume of smoke rose over the area.

The blast left a crater about five yards (meters) wide in front of the five-story building, which was singed and blackened.

"I was sleeping in my bed when the explosion happened, said 12-year-old Hussain Abbas, who was standing nearby in his pajamas. "I jumped from my bed and rushed to my mom's lap. I told her I did not to go to school today. I'm terrified." At least 25 people were killed and 62 injured in that attack, officials said.

They spoke on condition of anonymity because they were not authorized to speak to the media. 

Figures gathered from Iraqi health and police officials across the city put the death toll at 60, and 160 injured. 

The spokesman for the Iraqi health ministry put the death toll at 57 and said at least 176 people were injured. But conflicting casualty figures are common in the aftermath of such widespread bombings.

Iraqis are already used to horrific levels of violence, but many wondered when they would be able to enjoy some measure of security and stability after years of chaos.

 "My baby was sleeping in her bed. Shards of glass have fallen on our heads. Her father hugged her and carried her.  She is now scared in the next room," said one woman in western Baghdad who identified herself as Um Hanin.

"All countries are stable. Why don't we have security and stability?" While Baghdad and Iraq have gotten much safer over the years, explosions like today's are still commonplace.

They come at a precarious time in Iraq's political history, just days after American troops pulled out of Iraq. 

The government of Prime Minister Nouri al-Maliki this week accused Sunni Vice President Tariq al-Hashemi of running a hit squad that targeted government officials and put out a warrant for his arrest.

Al-Maliki is also pushing for a vote of no-confidence against another Sunni politician, the deputy prime minister Saleh al-Mutlaq.

Many Sunnis fear that this is part of a wider campaign to go after Sunni political figures in general and shore up Shiite control across the country at a critical time when all American troops have left Iraq.