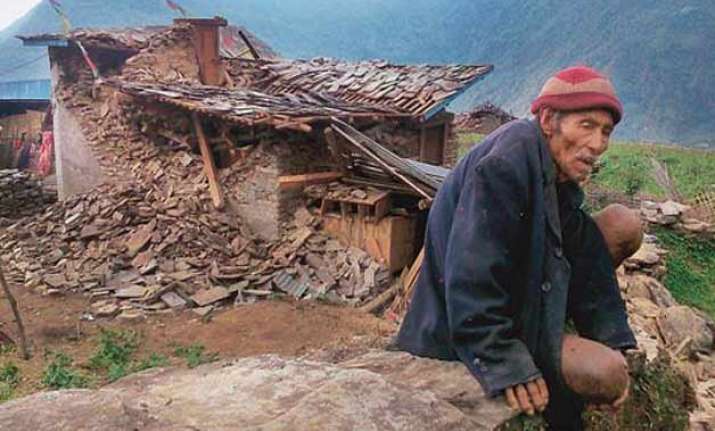 Gurkha/Barpak: Hundreds of villagers at the earthquake epicentre of Nepal – Gurkha and Barpak - have been totally cut off from the rest of the areas due to major landslides and are hence dying a slow death.
Since long stretches of land and roads have completely wiped off from these villages hence the rescue choppers are also not able to land and provide any help.
The only rescue reaching them is the food, tents and blankets being dropped from the hovering Indian Air Force choppers.
An IAF chopper which was making sorties over the Barpak village on Wednesday noticed 100-odd houses of the village completely flattened by the quake. Several attempts had been made to land as villagers looked up in desperation however, the chopper could not land due to the lack of proper ground or helipad. Hence only the supplies were dropped off.
Nepal Army Captain Naresh Khadka, who is guiding the IAF rescue operation in Barpak said, "We don't even know how many are dead in the village or how many are severely injured. Some may still be trapped under the rubble but, perhaps, alive. But we are in no position to save them. They'll die waiting for help. It's one of the saddest feelings when a rescue worker can't go through."
As per the Nepalese police, the death toll from the quake has reached 5045. Another 19 were killed on the slopes of Mount Everest, while China's official Xinhua News Agency reported 25 dead in Tibet. The disaster also injured more than 10,000, police said, and rendered thousands more homeless.
As reported in Times of India, Wing Commander Abhijit Bali said, "We are now trying to reach some of these worst-affected villages on foot and see if a helipad can be created by clearing demolished houses".