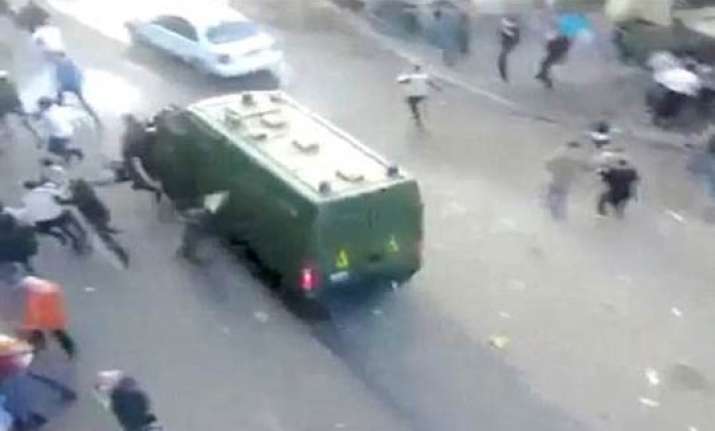 Cairo, Feb 4 : This is the sickening moment a police van ploughed through a crowd of innocent bystanders in a Cairo street, reports CNN.Several people are run down by the van while countless others are narrowly avoided as the vehicle drove through the crowd while barely even slowing down.  
Miraculously it appears that no-one was seriously injured as the video shows the man struck most violently walking away from the scene as the van drives into the distance.The 44-second video was captured from a building close to the street and shown on the website. 
It opens with pedestrians milling around and chatting on a street in the Egyptian capital and appears inconspicuous until the person behind the camera captures the green van approaching the crowd at speed.  
As it approaches it does not appear to apply the brakes at all, with pedestrians in the road running for cover. A child is seen sprinting across the road, while one bystander with a pink top around their waist somehow avoids being clipped by the van's front wing as it drives by.
 Pedestrians scatter as the van approaches while the person with the pink top around their waist somehow avoids contact with the van With seemingly no thought for human life, the deranged driver of the vehicle continues towards the people who are on the street.
With numerous people around, the video then captures the moment the vehicle mows down several pedestrians. As it approaches, and having witnessed what has just happened, people are seen running away but at least three men appear to have their backs turned to the van as it drives into them.  
Two are clipped and fall to the side as they are thrown into the road.
Lucky escape: As the van carries on its journey, the man who the left of it in this image gets to his feet and walks to the kerb However one man is struck flush by bonnet and appears to be dragged under the front left wheel of the vehicle before sliding along the tarmac. Amazingly given what has just happened, he gets to his feet and walks to the kerbside.  
Having also collided with a white car that was among the crowd, the van then continues into the distance, narrowly avoiding others further up the road.
Video:
One, Two