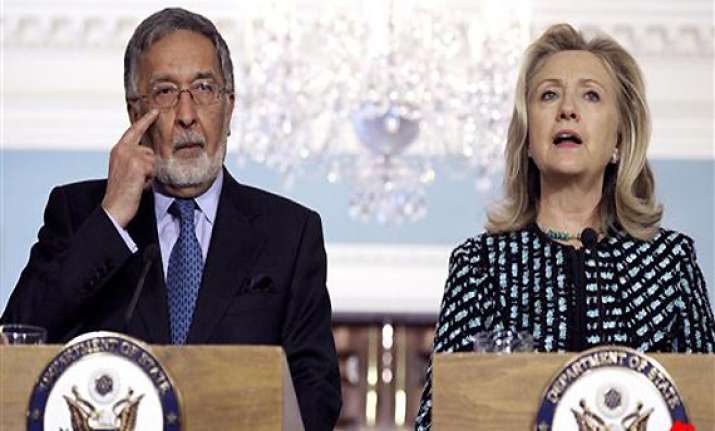 Washington, Mar 21: US Secretary of State Hillary Clinton today said Washington wants an honest, constructive and mutually beneficial relationship with Islamabad as it remains committed to its ties with Pakistan despite recent ups and downs.
"We want an honest, constructive, mutually beneficial relationship with Pakistan. We remain committed through the recent ups and downs. We've been working through these difficulties and challenges," she told reporters at a joint news conference with Afghan Foreign Minister Zalmai Rassoul.  
"We have made it clear we respect the territorial integrity and sovereignty of Pakistan. We also respect the democratic process that Pakistan is engaged in. We think it is actually quite significant that the democratically elected government, the democratically elected parliament is engaging in these matters," she said.
"We believe we have shared interests. We believe we have the same enemies. We believe that it's important to support counter-terrorism against the insurgents who kill and maim tens of thousands of Pakistani people, who send teams across the border to kill and maim, you know, people in Afghanistan and to kill and maim our soldiers and others. So we actually think we have a very strong security interest and mutually shared objectives with Pakistan," Clinton said.  
"But we also think supporting democracy and prosperity in Pakistan and stability in the region is good for Pakistan, it's good for Afghanistan, and it's good for the United States. So we are waiting to know, see the results of the parliament's debates, their recommendations to the government," she said when asked about the conditions being set by Pakistan to normalize its ties with the US, which are currently being discussed in its Parliament.
"Since it is ongoing, I think it would be not appropriate for me to comment at this time. They should be able to engage in their debate, but we stand ready to continue our work with the government and people of Pakistan," Clinton said.  
Rassoul said while the US is a friend and allies of Afghanistan, Pakistan is its brotherly neighbor.  
"So at the end of the day, you have the same interests: A peaceful, stable, democratic Afghanistan is definitely in the interests of Pakistan, and a destabilized Pakistan is not in the interest of Afghanistan, neither the US," he said.  
"So we need to work together to come out with the full understanding that we have a common enemy and we are linked to each other. And the stability and prosperity of one is the interest of other," Rassoul said.