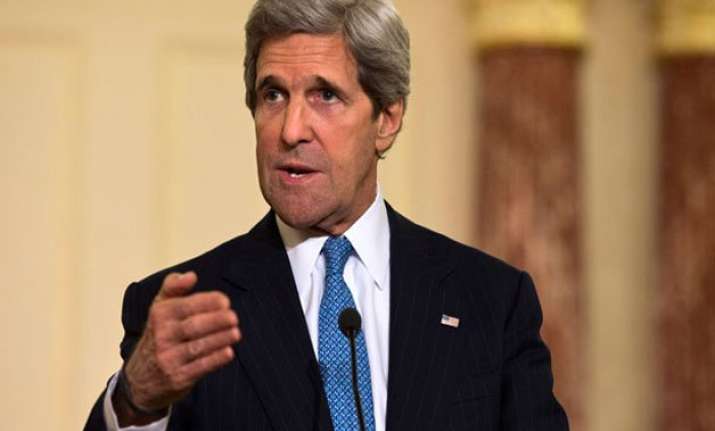 Washington: The US has strengthened its ties with India through constant diplomacy and the exchange of historic visits by heads of government, enhancing cooperation particularly in the fields of economy, security, science and clean energy, Secretary of State John Kerry said today.
"Through constant diplomacy and the exchange of historic visits by our heads of government, we've strengthened our ties with India, the world's largest democracy, on economic issues, security cooperation, science and clean energy," Kerry told lawmakers during a Congressional hearing.
Testifying before the Senate Committee on Appropriations Subcommittee on State, Foreign Operations, Kerry said as the world at present is marked both by stark tragedy and by great promise, America's role is critical as are the resources that only the Congress can provide.
"So we ask for your help. America must lead, but cannot do so on the cheap. The money we devote to the entire range of foreign policy programming, everything from embassy security to our counter-terrorism and non-proliferation initiatives amounts to only about one percent of the federal budget, yet it may impact fifty per cent of the history that will be written about this era," he said.
Kerry sought USD 3.5 billion to counter the Islamic State of Iraq and the Levant (ISIL) terrorist network, address the crisis in Syria, bolster regional security and respond to the humanitarian catastrophe brought on by the crises in Syria and Iraq.
In addition to seeking USD 3.1 billion in continued support for Israel, Kerry also asked the Congress for USD 3.4 billion to reinforce American partnerships and diplomatic engagement with Afghanistan and Pakistan.
In Pakistan, the United States is working with the government to counter terrorist groups that threaten the shared security, he said.
"Last month, I met with the country's leadership for our annual Strategic Dialogue and found—in the wake of the December 16 terrorist attack on the military school that murdered 132 children—a vigorous commitment to take on and defeat violent extremist groups," Kerry said.
"In recognition of our long-term engagement with the Pakistani people, we're also helping to promote development, energy security, health and education," he said.
Reiterating the Obama Administration's commitment to the Asia Pacific region, Kerry stressed on the need to have a better relationship with China.
"A key element of our policy has been to build a comprehensive relationship with China that supports its rise in a manner compatible with international law and respectful of the concerns and rights of its neighbours," he said.
"The United States remains committed to the peaceful denuclearisation of the Korean Peninsula and will continue—in close consultation with our allies—to bring pressure to bear on North Korea in support of that goal," Kerry said.