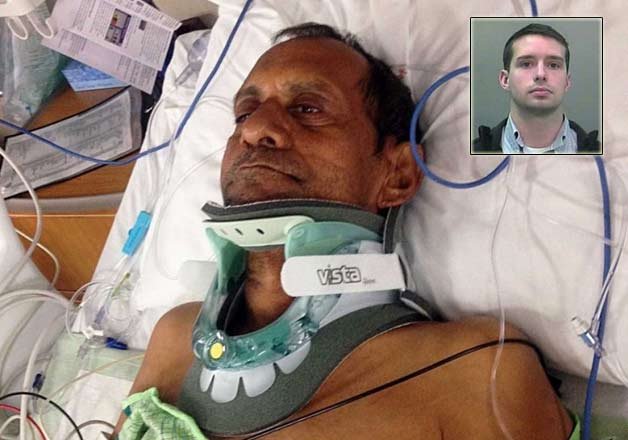 Birmingham (US): A former police officer in Alabama has been charged with violating the civil rights of an Indian man who was injured during a violent confrontation, authorities said today.
Former police officer Eric Sloan Parker is charged with using unreasonable force that left Sureshbhai Patel partially paralyzed. The 57-year-old from the western Indian state of Gujarat doesn't speak English. He was slammed face-first to the ground in the Feb 6 confrontation, which was captured on video.
Alabama Gov Robert Bentley previously apologised to the Indian government for the treatment of Patel, calling it a case of "excessive force."
Parker will plead not guilty, defence attorney Robert Tuten said.
"We are shocked, disappointed and overwhelmed by all the ways Eric Parker is coming under attack," Tuten said in an email. "However, we are looking forward to seeing the indictment and having our day in court."
Police treatment of minorities has become a big issue in the United States over the past year, and US Attorney Joyce Vance said people "must be able to trust the police."
"Law enforcement officers who violate their oath to protect and use excessive force must be brought to justice," Vance said in a statement.
Patel filed a civil lawsuit over the Feb 6 incident in the northern Alabama suburb of Madison, where he was visiting his son's family. His injuries include partial paralysis but he hopes for a full recovery, according to the lawsuit and Patel's lawyer. The lawsuit says Patel's civil rights were violated. It seeks an unspecified amount of money.