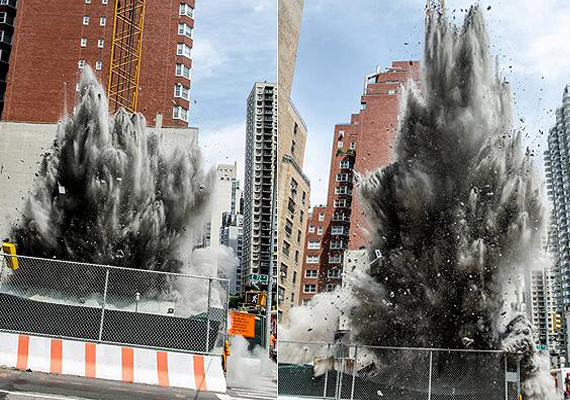 New York, Aug 22:  An underground dynamite blast on New York's Second Ave. on Tuesday suddenly went awry spewing chunks of concrete and bedrock as high as eight stories.
The explosion occured at around 12:45 pm turning the intersection of E. 72nd St  Second Ave. into a war zone, the New York Daily News reported.  
"It was like the finale of a fireworks display, but right there in my face," said John Wilson, 69, of Wilmington, N.C., who was out exercising a new hip implant when the explosion happened. 
Miraculously, no one was injured by the subterranean mishap that left a crater in the fenced-off construction site on the northwest corner of the intersection. 
The MTA quickly quelled any fears of terrorism, saying the boom was the result of a controlled underground blast that clearly got out of control. 
"There's no major damage, nothing more serious than broken windows," said MTA spokesman Adam Lisberg.  
"Clearly something went awry. We're suspending blasting until we know what happened."
Michael Horodniceanu, president of capital construction of the MTA,  said: "We're blasting on a daily basis," he said. "At this present time, we're investigating what made the explosion go through the deck. We don't know." 
He said workers were dynamiting the well for an escalator 40 feet below street level. 
Walls rattled, nearby windows were shattered and construction workers and passersby dove for cover as a geyser of debris filled the sky. 
Crushed concrete littered 72nd St. The explosion was so strong it hurled chunks of rock onto the roof of a six-story building next door.  
Another chunk crashed into the window of the Kolb Art gallery across Second Ave. from the blasting site.
Wilson, who underwent hip-replacement last week at the nearby Hospital for Special Surgery, was with his wife, Roberta, when they arrived at the scene just moments before the earth moved. 
"We were right in the middle of it," Wilson told the Daily News. "We were crossing Second Ave. and a worker says, 'Would you like to see something really cool happen.' Then boom! 
"I started feeling the dust and the debris hitting me," Wilson said. "The rocks were right in my face." 
Wilson said he immediately started snapping away with his camera, taking dramatic photos of the sky-high blast.