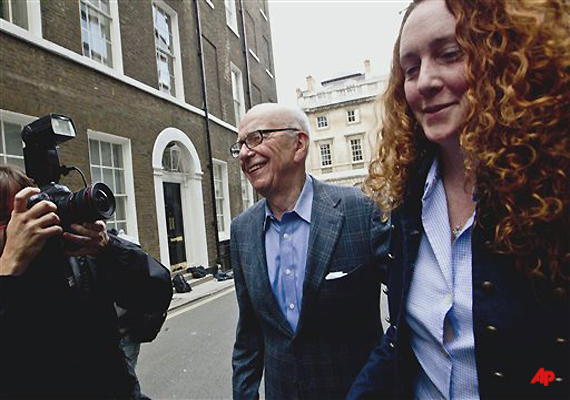 London, Mar 13: In an early morning swoop, media baron Rupert Murdoch's aide and the former editor of the News of the World, Rebekah Brooks, and her husband were arrested today along with four others in connection with the widening probe into the phone hacking scandal here.

43-year-old Brooks and her millionaire racehorse trainer husband, Charlie, were arrested at their home in Chipping Norton in a series of dawn raids by Metropolitan Police officers.

A spokesman for the Metropolitan Police said: "Police have today arrested six people at addresses in London, Oxfordshire, Hampshire and Hertfordshire.

"The co-ordinated arrests were made between 5am and 7am this morning by officers from Operation Weeting, the MPS inquiry into the phone-hacking of voicemail boxes.

"All six - five men and one woman - were arrested on suspicion of conspiracy to pervert the course of justice".

He said a number of addresses connected to the arrests are being searched.

Officers are searching several addresses after dawn raids in London, Oxfordshire, Hampshire and Hertfordshire, Scotland Yard said.

It is the biggest individual round of arrests under Operation Weeting.

Previously 23 people have been held and released on bail.

Scotland Yard said they consulted the Crown Prosecution Service before carrying out the operation.

The probe was launched in January last after the police received new information from News International, the publishers of the now defunct News of the World, the Sun, the Times and the Sunday Times.

Previous arrests under Operation Weeting include Ian Edmondson, the former News of the World assistant editor; Neville Thurlbeck, the former chief reporter; Neil Wallis, the former executive editor; Rebekah Brooks, the former News International chief executive; and Stuart Kuttner, the former managing editor.

Previous Operation Weeting arrests for conspiracy to pervert the course of justice include Cheryl Carter, the long-standing PA to Rebekah Brooks; Glenn Mulcaire, the private investigator; and Ross Hall, the former NOTW reporter.

The probe is looking into allegations of phone-hacking and payment to police in the UK for information at the behest of newspapers owned by Rupert Murdoch's News International.