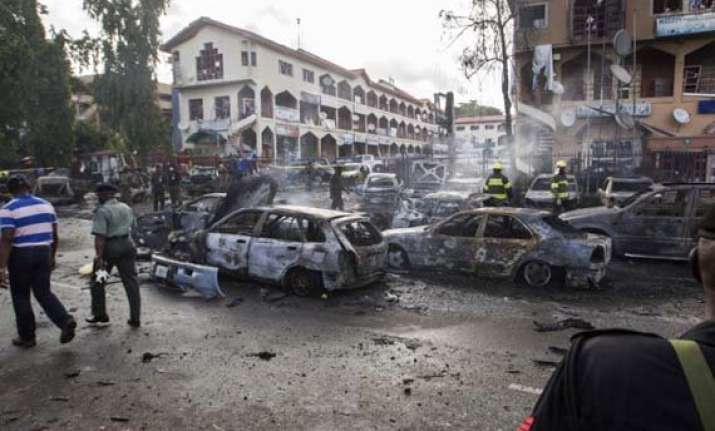 Abuja: Two female suicide bombers were behind twin explosions which claimed dozens of lives at a market place in Nigeria's Kano state Wednesday, police said.
The young girls, wearing hijab, carried out the attack by detonating their explosive devices at the busiest textile market in the northern region of Nigeria, Africa's most populous country, Xinhua quoted state police chief Adenrele Shinaba as telling reporters.
The blast killed the two women and four others and injured at least seven others, the police chief said.
The market's car park was most affected by the attack, according to Abubakar Abdullahi, chairman of the market traders' union.
"The police had taken away bodies of the suspected suicide bombers," he added.
Rescue workers and security operatives jointly took part in the evacuation of all people affected by the blasts to hospitals and cordoned off the location to forestall the danger of more explosions, spokesman of the National Emergency Management Agency (NEMA), Ezekiel Manzo, said.
He said the victims were evacuated to the nearby Murtala Muhammad Specialist Hospital and Nassarawa Hospital where they are presently being treated of the various degrees of injuries that they sustained.
"At least more than 29 people were rescued from the site and taken to the hospital," he added.
Earlier, witnesses had said dozens of people were feared killed in the attack.
"So many people, more than 20, have died, many others were injured. Rescue operators have just arrived and the security operatives have now cordoned off the area," Salihu Ahmed, a witness, told a Xinhua.
Another witness Baba Ibrahim said he saw many bodies while running for safety after the loud blasts.
The incident occurred barely two weeks after suicide bombers hit the central mosque near the Emir's palace in Kano State, killing over 120 people and injured more.
It is still unsure whether the attack was an act of the militant group Boko Haram which has carried out a series of similar attacks in the country.