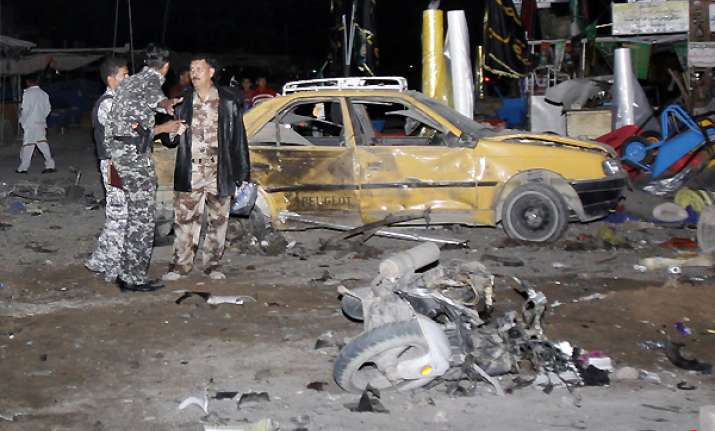 Basra (Iraq), Nov 25: A string of bombings in a southern oil city killed 11 people this evening and injured dozens more, a grim sign of the security challenges Iraq will face after American troops go home.

The US military is drawing down its troops ahead of an end-of-December deadline to have all American forces out of the country.

Incidents like today's triple bombing in a city seen as key to Iraq's economic development show the dangerous prospects awaiting Iraqis next year.

Three bombs went off in a popular open-air market in Basra, police officials said.

The third bomb exploded a few minutes after Iraqi army and police forces arrived on the scene in response to the earlier blasts, officials said.

The third blast caused all the fatalities and almost all of the injuries, the officials said.  Among the dead and wounded were many policemen and Iraqi army soldiers.

The police officials spoke on condition of anonymity because they were not authorised to speak to reporters.

Kamal Ali was working at a clothing shop across the street when the blasts went off.

He said after the first explosion, bystanders rushed to help the victims.

When another blast went off about five minutes later, the terrified people ran to escape.

Then police and soldiers rushed to the scene before the third and most deadly bomb went off.

"Most of the casualties are police and Iraqi troops who rushed to help the victims and cordoned off the scene. They sacrificed their lives for the poor people," Ali said.

Basra is about 550 kilometers southeast of Baghdad. It is considered the center of Iraq's burgeoning oil sector.

There was no immediate claim of responsibility for the bombings, and it was not clear whether it was the work of Sunni extremists like al-Qaida, or by Shiite militias.