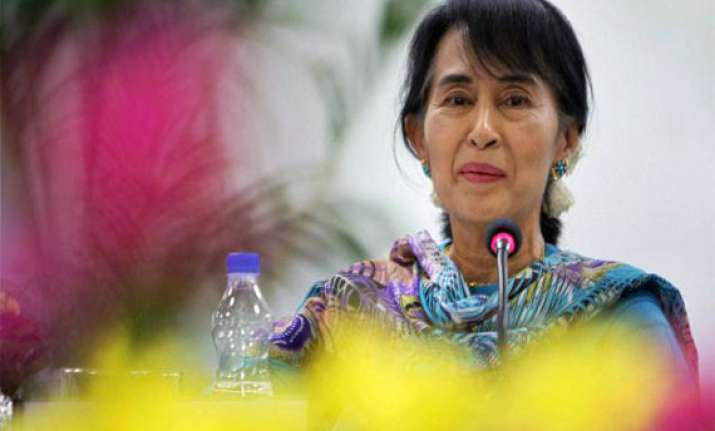 Kothalagutta, Nov 17: Nobel Peace Laureate and Myanmar's pro-democracy leader Aung San Suu Kyi on Saturday said she would like to see more women at the forefront of people's empowerment in India.
"When I arrived here I saw very few women, but I saw more of them in a women's programme. I would like to see them at the forefront of people's empowerment in India. I am very encouraged by the fact that women in this country are coming to the fore and have more economic power," she said.
Ms Suu Kyi said economic power by itself cannot necessarily get rid of gender discrimination, but certainly is a step in the right direction.
Asked if rural empowerment programmes would be implemented back in Myanmar, Ms Suu Kyi said that her people have to look at different models to find out a suitable one for their society.
Schemes like NREGA would be of much help, she said.
"Today was a very valuable day for me... many lessons learnt," she said, speaking after a field visit vis-a-vis implementation of Mahatama Gandhi National Rural Employment Guarantee Scheme projects in Anantpur district.
Asked what freedom meant to her, she said freedom always means the same for her. "But freedom for the people is a different thing. It has to be something that has helped along the political system and the government. So freedom for our people has to be achieved through genuine democraticisation," she said.
On whether she found any differences in India compared to the days she studied here, Ms Suu Kyi said she can still recognise the country she was in and wasn't absolutely taken aback.
"But there has been progress in empowering people. But I think it should also be handled in the right way so people's empowerment becomes the strength of the nation," she said.
Asked what she would convey to the world as a champion of democracy, she said before somebody casts her in that mould, she is an advocate of democracy.
"I think it is too much of an assumption that I am championing democracy. I have all along advocated democracy.
What I hope is democracy really works in my country so that it can be an example for others," she said.